Trump Airport Protests Live Blog: Protesters across country to challenge Muslim ban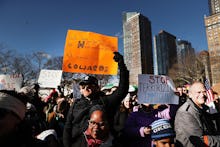 On Saturday, protests erupted at airports nationwide after President Donald Trump's executive order banning immigrants and refugees from seven Muslim-majority countries left many people detained in immigration limbo or unable to get back into the United States.
Although the American Civil Liberties Union won a temporary stay against Trump's order, the president tweeted on Sunday morning to defend the ban, calling the world a "horrible mess."
Mic's reporters will be live at protests throughout New York City on Sunday. We will keep you updated on the latest developments and demonstrations as they happen.
3:41 p.m.: Protesters have gathered in front of the Trump International Hotel in D.C.
3:05 p.m.: The Hussein sisters are finally reunited with their mother
2:56 p.m.: Protests continue in Battery Park
2:41 p.m.: Protesters chanting in Spanish against Trump's travel bans
2:21 p.m.: Jewish protesters are standing in solidarity with Muslim immigrants and refugees
2:09 p.m.: Protesters have now gathered in New York City's Battery Park
12:19 p.m.: An emotional reunion after another detainee is released
12:17 p.m.: Rep. Hakeem Jeffries reports "at least seven" still detained at John F. Kennedy Airport's Terminal 4
11:43 a.m.: Another detainee released
11:32 a.m.: Families of the detained remain anxious
Mic's Jack Smith spoke Saturday with the Hussein sisters, whose mother is at risk of being sent back to Iraq  This morning, they are still anxious.
11:15 a.m.: Another detainee released 
11:09 a.m.: Rep. Hakeem Jeffries enters area where detainees are being held in JFK airport. Lawyers and families of the detained must stay outside.
10:48 a.m.: Democratic Congressman Hakeem Jeffries, from New York, is at JFK airport meeting with officials and families of the detained
10:45 a.m.: Another detainee released
10:36 a.m.: There were several released over night at JFK airport
10:33 a.m.: There are at least 21 detentions in NYC — unclear how many more are detained without legal representation
9:59 a.m.: Lawyers continue to work to free those still detained at John F. Kennedy Airport