Rudy Giuliani admitted Trump's "extreme vetting" is actually just a Muslim ban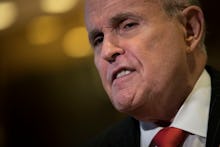 Before signing his executive order banning Muslims from seven countries from entering the country, President Donald Trump failed to meaningfully consult with such institutions as the Justice Department's Office of Legal Counsel and the Department of Homeland Security, CNN reported.
He did, however, apparently seek the guidance of Rudy Giuliani.
The former New York City mayor described his role in Trump's executive order in an interview with Jeanine Pirro on Fox News. Though Trump claimed the order was "not a Muslim ban," Giuliani's report of the events makes it absolutely clear that the executive order is driven by Islamophobia and the intent to target Muslims, rather than valid national security concerns.
"When [Trump] first announced it," Giuliani said, "he said 'Muslim ban.' He called me up, he said, 'Put a commission together, show me the right way to do it legally.'"
Giuliani's legal workaround solution, which he said he drew up with a team that included Reps. Peter King and Michael McCaul and former U.S. Attorney General Michael Mukasey, was to instead focus on targeting specific, predominantly Muslim countries, rather than putting the focus on religion itself.
"What we did was we focused on — instead of religion — danger," Giuliani said. "The areas of the world that create danger for us. Which is a factual basis, not a religious basis."
This "factual basis," of course, is not entirely accurate. None of the restricted countries — which, Mic reported, are the countries President Barack Obama targeted with a visa waiver restriction in 2015 and 2016 — have bred a Muslim extremist that has carried out a fatal attack in the United States in over two decades, NPR noted.
Furthermore, the list of countries was not expanded to include majority-Muslim countries like Saudi Arabia or Egypt that have ISIS ties and citizens who have carried out attacks on American soil. These excluded countries, NPR reported, also include every Middle Eastern country in which Trump has business interests.
When asked about the exclusion of Saudi Arabia and Pakistan specifically, Giuliani pointed to the regime change in Saudi Arabia but said he would have to "know more about" the situation in Pakistan, and says the exclusion "troubles" him.