Lyft, Netflix, Airbnb: How major companies are denouncing Trump's Muslim ban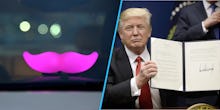 While thousands took to the streets and airport terminals to denounce Trump's executive order effectively banning Muslim refugees and immigrants on Saturday, several tech company CEOs jumped into the fray and denounced the president's executive order through social media and internal memos.
Heads of companies that have become household names — Lyft, Netflix and Airbnb, to name a few — spoke out fervently against Trump's executive order. Here's what they had to say.  
Lyft 
On Saturday, Lyft CEO Logan Green tweeted out a two-part response to Trump's Muslim ban. 
"Throughout our history, Lyft has worked hard to create an inclusive, diverse and conscientious community where all of our drivers and passengers feel welcome and respected," Green said. "Banning people of a particular religion from entering the U.S. is antithetical to both Lyft's and our nation's core values."
Lyft also put its money where its proverbial company-sized mouth is and pledged to donate $1 million to the American Civil Liberties Union, the legal advocacy group that dealt the first major blow to Trump's executive order. 
Netflix 
When it comes to the Muslim ban, Netflix has no chill. CEO Reed Hastings denounced the ban in a Facebook post, calling the executive order "so un-American it pains us all."   
"Worse, these actions will make America less safe (through hatred and loss of allies) rather than more safe," Hastings wrote. "A very sad week, and more to come with the lives of over 600,000 Dreamers here in an America under imminent threat. It is time to link arms together to protect American values of freedom and opportunity." 
Airbnb
Airbnb's CEO Brian Chesky announced on Twitter that his home-sharing service would provide free housing to refugees or anyone not allowed to enter the United States.
Apple 
Though not as publicly as some other CEOs, Apple CEO Tim Cook has addressed the controversial ban. In a memo sent to employees obtained by the Verge, Cook said the ban is "not a policy we support." 
"Apple would not exist without immigration, let alone thrive and innovate the way we do," Cook wrote. Cook's point is almost understated: Apple Founder Steve Jobs was the son of a Syrian migrant. 
Google 
Google CEO Sundar Pichai slammed the order in a memo to staff, Bloomberg reported. 
"It's painful to see the personal cost of this executive order on our colleagues," Pichai wrote in the memo. "We've always made our view on immigration issues known publicly and will continue to do so."
Slack 
Slack CEO Stewart Butterfield issued a series of tweets Saturday condemning the ban, but also denouncing Trump's first week in office.  
"I can't understand the motivations or reasoning," Butterfield tweeted. "Immigration is unambiguously an economic benefit, but, doesn't matter: do the right thing because it's right." 
Salesforce 
CEO Marc Benioff denounced the ban on Saturday evening, while also shouting out to the "golden rule" of Christianity: loving your neighbor as yourself. 
Box
Aaron Levie, CEO of Box, a cloud-computing company, tweeted out an unequivocal put-down of the ban, calling it "on every level ... completely antithetical to the principles of America." 
Y Combinator 
Though not exactly a household name, Y Combinator is an incubator that birthed Airbnb, Dropbox and more. President Sam Altman took to his personal blog to bash the ban. 
"This administration has already shown that they are not particularly impressed by the First Amendment, and that they are interested in other anti-immigrant action," Altman said. "So we must object, or our inaction will send a message that the administration can continue to take away our rights."
Twitter
CEO Jack Dorsey called the ban's economic effects "real and upsetting" in a tweet Saturday. 
Twitter's own account posted a tweet on Saturday that the company was "built by immigrants of all religions" and that the company stands "for and with them, always." 
Tesla 
Tesla CEO Elon Musk said the ban is "not the best way to address the country's challenges" on Twitter. 
Mozilla
Mozilla CEO Chris Beard called the ban "a bad precedent" in a blog post. 
"By slamming the door on talented immigrants — including those already legally in the United States and those seeking to enter — the ban will create a barrier to innovation, economic development and global impact," Beard wrote. "Immigrants bring world class skills and expertise to build advanced technology that can improve the lives of people everywhere. The ban will have an unnecessary negative impact to the health and safety of those affected and their families, not to mention rejecting refugees fleeing persecution, terror and war." 
Given Trump's love of Silicon Valley and all things private sector, perhaps these voices will be the ones to get through to him.