Lyft pledges $1 million to ACLU after #DeleteUber trends on Twitter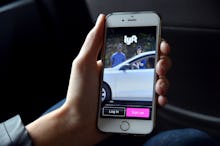 Ride-sharing service Lyft has pledged to donate $1 million to the American Civil Liberties Union, which won a temporary stay against President Donald Trump's decision to ban over 130 million people from seven Muslim-majority nations from the country.
Its number one competitor, Uber, came under fire for not halting service to John F. Kennedy International Airport in New York in solidarity with striking taxi workers. 
The hashtag #DeleteUber trended Saturday night as users upset Uber did not suspend service to the terminals affected by the New York Taxi Workers Alliance work stoppage said they would end their accounts. The controversy grew after Uber tweeted it had turned off surge pricing at the airport, only clarifying hours later it had not intended to break the strike.
Uber's troubles seem to have created a public relations opportunity for Lyft.
"Banning people of a particular faith or creed, race or identity, sexuality or ethnicity, from entering the U.S. is antithetical to both Lyft's and our nation's core values," Lyft's company co-founders wrote in a letter to users about the ACLU donation. "We stand firmly against these actions, and will not be silent on issues that threaten the values of our community."
However, Uber did address the controversy over Trump's travel bans earlier in the day, pledging to compensate affected drivers until they could re-enter the U.S.