Trump administration doesn't regret not mentioning Jews on Holocaust Remembrance Day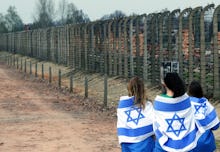 Friday was Holocaust Remembrance Day, and President Donald Trump marked the occasion with a statement that had no mention of Jews or the anti-Semitism at the tragedy's core.
The omission, the Trump administration has now clarified, was an intentional one — because apparently, when it comes to the Holocaust, All Lives Matter.
When asked about the statement, Trump administration spokeswoman Hope Hicks told CNN that "despite what the media reports, we are an incredibly inclusive group and we took into account all of those who suffered." Hicks also provided a link to a Huffington Post article outlining other groups that suffered during the Holocaust in addition to Jews, including LGBTQ people, priests, the disabled, Jehovah's Witnesses, Poles and other Slavic peoples and resistance fighters.
White House Chief of Staff Reince Priebus echoed Hicks' statement on Sunday in an appearance on Meet the Press. Host Chuck Todd asked if he understood why people were offended by the decision to "not to note that the Holocaust was about eradicating the Jews," to which Priebus responded, "Well, I recognize in fact, obviously, that that was what the Holocaust was about."
Priebus emphasized the "horrible" nature of the Holocaust and the "Jewish people that suffered" in his response, noting that Trump has Jewish family members himself. Trump's daughter Ivanka and son-in-law Jared Kushner identify as Jewish.
However, Priebus made it clear that the administration did not "regret" its choice of words.
"I don't regret the words, Chuck, I'm trying to clear it up for you," Priebus said. "Everyone's suffering in the Holocaust — including, obviously, all of the Jewish people affected and the miserable genocide that occurred — is something that we consider to be extraordinarily sad and something that can never be forgotten and something that, if we could wipe it off the history books we could, but we can't, and it's terrible. I mean, I don't know what more to tell you."
International Holocaust Remembrance Day, Anti-Defamation League Director Jonathan Greenblatt told CNN, was originally established specifically because so many countries, such as Russia, Iran and Poland, choose not to acknowledge the specific plight of the Jews during the Holocaust. 
These countries, Greenblatt explained, "[opt] instead to talk about generic suffering rather than recognizing this catastrophic incident for what is was: the intended genocide of the Jewish people" — much as Trump's statement did. Downplaying the specific targeting of Jews, Greenblatt noted, is commonly done by nationalist movements in particular.
Trump's omission of the Jews is particularly concerning considering his base of support from white nationalists and neo-Nazis, as well as his Chief Adviser Steve Bannon's history of anti-Semitism. Additionally, a key slogan from Trump's inaugural address, "America First," first gained prominence as the name of an anti-Semitic organization during World War II.
 The organization "urged the United States to appease Adolf Hitler," Susan Dunn, a professor at Williams College, wrote for CNN.