Donald Trump's Muslim ban does not apply to green card holders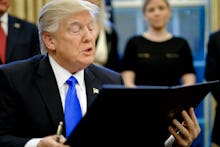 Republican President Donald Trump's administration appeared to reverse course on a key aspect of his executive order barring refugees from entering the United States for 120 days and banning entry to others from seven Muslim-majority nations, saying on Sunday the order does not apply to green card holders, who are legal permanent residents, as previously stated, the New York Times reported.
Reince Priebus, Trump's White House chief of staff, issued the call after a day of chaos at airports around the country and globe as an unknown but very large number of mainly Muslim people attempting to enter the U.S. were turned away. Many of those impacted by the order were permanent residents who had lived in the U.S. for years, meaning they had essentially been kicked out of their homes. Individuals impacted by the order were detained by Customs and Border Protection officers at airports.
Later in the day Department of Homeland Security Secretary John Kelly released his own statement that he has now deemed "the entry of lawful permanent residents to be in the national interest" and that his agency would consider such legal residency a positive in the absence of "significant derogatory information indicating a serious threat to public safety and welfare."
According to CNN, confusion over the status of green card holders came after the Department of Homeland Security read Trump's order and determined it did not apply to permanent residents, only for the "president's inner circle, led by Stephen Miller and Steve Bannon," to overrule them and say green card holders would only be admitted on a case-by-case basis.
CNN also reported that source within the administration said Trump's staff did not seek legal guidance from the Office of Legal Counsel.
Though the administration denied that account, Priebus himself seemed confused about the precise nature of the order in his appearance on Meet the Press Sunday morning.
On Saturday night, two U.S. District Court judges issued rulings halting parts of the plan. One, issued by U.S. District Judge Ann Donnelly, ordered law enforcement officials not to deport those detained, though it did not prevent them from being detained in the airports. 
According to the New York Post, some CBP officials appeared to be ignoring the order and proceeding with deportations regardless. Another order, issued by U.S. District Judge Leonie Brinkema, ordered the detainees be given access to lawyers — and was similarly illegally defied by CBP officials.
Jan. 29, 2017, 7:05 p.m. Eastern: This article has been updated.