Universities denounce Trump's Muslim ban, advise affected students not to travel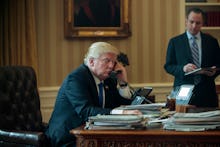 Colleges and universities across the U.S. responded to Republican President Donald Trump's decision to deny entry to refugees for 120 days and citizens of seven Muslim-majority nations for 90 days, with some issuing guidance on travel to affected students.
At Princeton, Tulane and Stanford universities, college officials expressed concern to students that they could have trouble with immigration authorities. Princeton advised affected students not to travel outside the country, while Tulane said to carry identification and ACLU civil rights brochures, BuzzFeed reported. Stanford's Bechtel International Center and the Rochester Institute of Technology also advised international students not to leave the country in case they are not admitted back, according to ABC News.
"We have strongly advised students and scholars who might be affected and who have travel plans in the coming days to defer travel outside of the United States until there is some clarity and legal analysis of the situation or, if they must travel, to seek legal counsel before they do," Princeton University told NBC News in an email.
In another example, the University of Pennsylvania advised "all nationals from the affected countries to defer travel until there is some clarification of the situation" and adding it remained "dedicated to ensuring that all international members of our community thrive on our campus."
Nearly 20,000 students and faculty could be impacted by the bans.
"More than 17,000 students from the seven countries listed in Mr. Trump's order were enrolled at U.S. schools in the 2015-2016 year, according to the Institute of International Education, while more than 2,000 such teachers and researchers were at U.S. colleges and universities," the Wall Street Journal wrote.
According to BuzzFeed, the IIE's statistics show there are approximately 12,000 Iranian students studying abroad in the U.S., comprising the 11th largest international grouping of students here. 
Numerous universities including Columbia, the Massachusetts Institute of Technology, and Notre Dame have denounced the executive order as discriminatory and asked the president to rescind it, NBC News wrote.
While many colleges and universities have pledged to support their undocumented international students and direct their university police departments to not ask questions regarding immigration statuses, most have drawn the line short of providing a vaguely defined "sanctuary" against crackdowns from immigration authorities. 
The administration has additionally mulled ending or restricting Deferred Action for Childhood Arrivals, a program which allows some 750,000 immigrants who entered the country illegally as minors to apply for renewable extensions of their stay here, and which many students rely on to remain in the country.