Watch these Iraqi daughters reunite with their mom after 24-hour detention at JFK Airport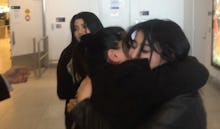 After 21 years apart from your mother, what's another 24 hours? Enough to throw your whole world into disarray.
Iraqi-American sisters Anfal and Elaf Hussein are both U.S. citizens, but their mother, Iman, is not. Iman was supposed to get into John F. Kennedy Airport in New York City on a flight from Baghdad by way of Qatar, arriving on a green card she'd received under the Obama administration. The girls had only seen their mother once in the past 21 years.
Anfal and Elaf waited patiently at the arrivals area in Kennedy Airport's terminal 4. But their mother didn't come out.
Iman was detained at Kennedy Airport, along with over a dozen others, because of an executive order issued Friday by President Donald Trump. 
The order had barred visa-issuance to citizens from seven Muslim-majority countries — including Iraq. On Saturday, a federal court temporarily halted deportations of travelers with the proper legal documentation to enter the country, but that didn't end the detentions. What's more, as lawyers worked around the clock to free the airport detainees, immigration officials were drawing up workarounds to deport them despite the order.
The uncertainty, not least because of constantly shifting Trump administration positions, fueled the Hussein sisters' anxiety as they awaited their mother's release. They could barely communicate with her at all.
"We only talked to her for one minute over the phone to make sure she's okay, and then they said they were sending her back," Anfal said in an interview on Saturday night. "She's crying in fear, and she doesn't really speak English."
So the Hussein sisters waited at Kennedy Airport, trying to make sure their mother wouldn't be forced to return to war-torn Baghdad.
The only time the sisters had seen their mother in the past two decades was during a brief visit after they finally received their American citizenship. As children, their father kept them in the U.S.; he feared, ironically, that if they went to the Iraq, they might be unable to return to America with their legal status intact. 
The next day the girls watched as, one by one, detainees were released to their families, with crowds of protesters cheering on. They smiled easily — worried, but in good spirits.
Then came the bad news: New York Rep. Hakeem Jeffries met with immigration officials and came back to announce that Iman had passed out in detention, and had possibly been moved to a hospital. (Anfal herself was sick on Saturday night, suffering from a diabetic episode as she waited anxiously for her mother.)
The family called several hospitals trying to locate their mother, with no luck. It turned out to be more confusion amid the chaos — Iman had been at at the airport the whole time.
At about 2:30 p.m. Eastern on Sunday, the Hussein sisters got word that their mother would be released in the next 10 minutes. They stood at the international arrivals area, hands shaking and nervous with excitement.
"They said it would be 10 minutes," Elaf said to her sister. "Ten minutes is too long."
Then they saw her. Iman was the spitting image of her two daughters. The girls rushed forward, throwing their arms around their mother as the crowd erupted in applause.