Donald Trump says executive order is not a Muslim ban — it is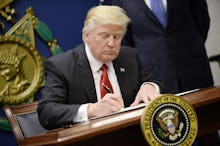 In a statement issued on Sunday afternoon, Republican President Donald Trump attempted to clarify the intent and purpose of his executive order barring all refugees from entering the country for 120 days and suspending entry to citizens of seven Muslim-majority countries.
"To be clear, this is not a Muslim ban, as the media is falsely reporting," Trump, who proposed just that during his campaign, wrote. 
This is not about religion — this is about terror and keeping our country safe. There are over 40 different countries worldwide that are majority Muslim that are not affected by this order. We will again be issuing visas to all countries once we are sure we have reviewed and implemented the most secure policies over the next 90 days. I have tremendous feeling for the people involved in this horrific humanitarian crisis in Syria.
In the statement, Trump shot back the orders were necessary to protect the country against terrorism — despite the fact the bans would do little to prevent attacks, as most attacks are committed by citizens or permanent residents — and generally attempted to paint the incident as exaggerated by the national media.
In a followup statement, Department of Homeland Security Secretary John Kelly added he has now deemed "the entry of lawful permanent residents to be in the national interest" and his agency would consider such legal residency a positive in the absence of "significant derogatory information indicating a serious threat to public safety and welfare."
The executive order, which CNN reported was hastily drafted without the traditional consultation of the White House Office of Legal Counsel, resulted in chaos as immigration officials enforced the policy without clear guidelines. The administration flipped back and forth on critical details such as whether the order applied to green card holders (permanent residents). 
At airports across the U.S., Customs and Border Protection agents indefinitely detained an unknown number of individuals before they could enter the U.S. proper.
Jan. 29, 2017, 7:03 p.m. Eastern: This article has been updated.