Kal Penn owns racist troll by raising hundreds of thousands of dollars for Syrian refugees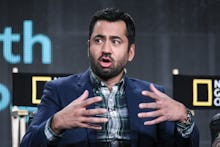 Actor and former Barack Obama administration official Kal Penn has raised hundreds of thousands of dollars for Syrian refugees after a Twitter user told him he doesn't "belong in this country" in response to GOP President Donald Trump's executive order banning refugees and visa holders from seven Muslim-majority countries.
Penn, who was born to Gujarati immigrants in New Jersey, created a Crowdrise page titled "Donating to Syrian refugees in the name of the dude who said I don't belong in America." As of 7:00 p.m. Eastern on Sunday evening, the tally stood at over $381,000, just shy of its $400,000 goal.
"At a time in which our new president and his staff are pushing out executive orders with the most un-American, dangerous precedents, I'm so inspired to see thousands of people come together to show the world how much we love our beautiful country, and how much we want to welcome refugees seeking hope and freedom," Penn said in an email interview.
Trump signed the order Friday, which banned all refugee admissions into the U.S. for 120 days and suspended entry to citizens of the seven countries for 90 days. Confronted with a wave of protests and chaos at airports around the country, Trump's administration later decided the order did not apply to green card holders, and the president defended himself against charges the policy more or less amounted to the Muslim ban he himself proposed during the campaign.
Penn is best known for his roles in TV drama House and the Harold & Kumar film series, as well as leaving the film industry for several periods to work as an associate director of public engagement for Obama. He currently stars in the series Designated Survivor, about a terror attack which wipes out the administration of the U.S.