Ashton Kutcher, Julia Louis-Dreyfus address immigration ban at 2017 SAG Awards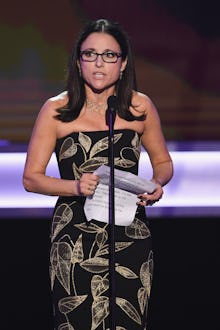 Ashton Kutcher kicked off the 2017 Screen Actors Guild Awards with a powerful message regarding the immigration ban targeting Muslims and refugees. The Ranch star welcomed actors, viewers at home and "everyone in airports that belong in my America."
"You are a part of the fabric of who we are, and we love you and we welcome you," Kutcher said. "We also welcome you to the 23rd annual Screen Actors Guild Awards."
Julia Louis-Dreyfus followed up on Kutcher's comment after taking to the stage to accept the award for outstanding performance by a female actor in a comedy series for her role on Veep. After joking about the Russians being responsible for her win, Louis-Dreyfus got serious while explaining that she is the daughter of an immigrant. 
"My father fled religious persecution in Nazi-occupied France," the actress said. She added that while she is a patriot and loves this country, she is also "horrified" by its blemishes. 
"This immigrant ban is a blemish and it is un-American."