Who is Mahershala Ali's wife? How Amatus Sami-Karim helped him convert to Islam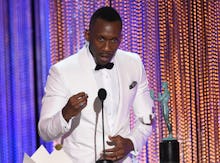 Moonlight star Mahershala Ali won the Screen Actors Guild award Sunday for outstanding performance by a male actor in a supporting role. In light of President Donald Trump's "Muslim ban," Ali used his SAG speech to talk about love and acceptance — something said he learned from his wife, Amatus Sami-Karim, and his mother, Willicia Gilmore.
You know, when we kind of get caught up in the minutia, the details that make us different, I think there are two ways of seeing that. There's an opportunity to see the texture of that person, the characteristics that make them unique. And then there's an opportunity to go to war about it, and to say that that person is different from me and I don't like you, so let's battle.My mother is an ordained minister, I'm a Muslim. She didn't do backflips when I called her to tell her I converted 17 years ago. But I tell you now, you put things to the side. And I'm able to see her, and she's able to see me. We love each other and the love has grown. And that stuff is minutia. It's not that important.
According to People, Ali, who was born Mahershalalhashbaz Gilmore, converted to Islam after visiting a mosque with Sami-Karim and her mother. 
"I just had this really strong response where this prayer is resonating in my body," he explained of converting. "I woke up a week later, and I get up and I go, 'I gotta go to the mosque.' Long story short, I converted that day."
Sami-Karim is an actress, composer and artist who grew up at her father's mosque in Chicago. She met Ali while the two were studying at New York University, and they wed in 2013. 
"She's extraordinarily intelligent, she's about the right things, spiritually grounded, a beautiful person," Ali said on the Death, Sex & Money podcast.
The couple are expecting their first child together, which Ali announced on Instagram in December.