Quebec City mosque shooting: 6 reported dead, 2 suspects arrested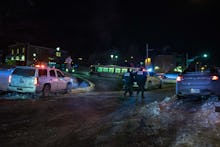 Six people are reportedly dead and eight are injured following a shooting at a mosque in Quebec City, Canada, according to Reuters. The president of the mosque delivered the news of the shooting to reporters on Sunday, Reuters reported.
The shooting occurred during evening prayers at the Quebec City Islamic Cultural Center. A witness told Reuters that up to three gunmen opened fire on around 40 people. 
"Why is this happening here? This is barbaric," the mosque's president, Mohamed Yangui, said, according to Reuters. Yangui was not present at the mosque during the shooting, but said he received phone calls from people at the scene.
The Twitter account of the Quebec City police confirmed that a shooting had taken place. Shortly after, the police department's Twitter account announced that there were deaths and injuries, and that suspects had been arrested.
Two suspects have been arrested in connection to the shooting, according to CBC. 
At 10:41 p.m., the police department announced that the situation was under control and an investigation was underway.
As Toronto Star Washington correspondent Daniel Dale pointed out on Twitter, the Quebec City Islamic Cultural Center was the target of an Islamophobic attack in June. A pig's head wrapped in plastic and bows was discovered outside the center, with a card that read "Bonne appétit," the Toronto Star reported at the time.
Canadian Prime Minister Justin Trudeau called the Sunday night mosque attack "cowardly," and said his thoughts were with the victims and their families.
Quebec Premier Philippe Couillard condemned the shooting, calling it an act of "barbaric violence" on Twitter. Couillard also extended a message of solidarity to Quebec's Muslim community.
This story is breaking and will be updated.