British petition to prevent Trump's state visit to UK tops 1 million signatures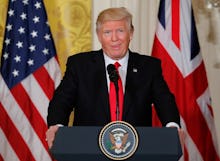 A petition created on the British Parliament's official website is calling to block President Donald Trump from making an official state visit to the U.K. The petition has already exceeded 1 million signatures, with hundreds of new ones coming in every minute. Only 100,000 signatures are needed for the issue to be considered for debate by Parliament, according to BBC News.
The petition argues that Trump "should not be invited to make an official state visit because it would cause embarrassment to Her Majesty the Queen."
"Donald Trump's well-documented misogyny and vulgarity disqualifies him from being received by Her Majesty the Queen or the Prince of Wales," the petition reads. "Therefore during the term of his presidency, Donald Trump should not be invited to the United Kingdom for an official state visit."
The petition also notes that while Trump should be blocked from an official state visit, wherein he would meet with the queen, he should still be allowed to enter the U.K. "in his capacity as head of the U.S. government." An interactive map displaying where the signatures are coming from shows that residents in every part of the U.K. have signed the petition, an incredible display of united opposition against Trump.
Numerous members of Parliament have shared the petition, encouraging constituents to sign and share.
Trump recently met with U.K. Prime Minister Theresa May, who has since spoken out against Trump's Muslim ban. A spokesman for May said the U.S. government's immigration policy is up to the U.S. to make, but emphasized that May does not agree with the recent changes.
"We do not agree with this kind of approach and it is not one we will be taking," the spokesman said. "We are studying this new executive order to see what it means and what the legal effects are, and in particular what the consequences are for U.K. nationals. If there is any impact on U.K. nationals, then clearly we will make representations to the U.S. government about that."