Quebec Mosque Shooting: Here's what we know about the victims, the suspects and more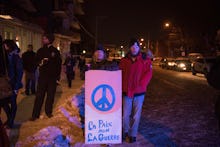 On Sunday, gunmen opened fire in a Quebec City mosque, killing six and injuring eight while worshippers were gathered for evening prayer. Almost immediately the shooting was condemned by world leaders as law enforcement officials in Canada began to investigate the attack. Canadian Prime Minister Justin Trudeau called the shooting a "terrorist attack on Muslims," Reuters reported.
Two suspects were apprehended shortly after the shooting — one was arrested near the scene and another was arrested 14 miles east on a bridge to the Island of Orleans, according to the Washington Post. On Monday, the Associated Press first reported that two suspects had been identified by name; later, the outlet reported that, according to Quebec police, only one of the two people arrested is a suspect in the attack. Here's what we know so far about Sunday's deadly attack:
About the victims
According to the New York Times, the six who were killed were between the ages of 35 and 70. There were 39 other worshipers in the mosque who were unharmed in the attack.
In a statement, Trudeau called the attack on Canada's Muslim community "heart-wrenching." 
"Diversity is our strength, and religious tolerance is a value that we, as Canadians, hold dear," he said. "Muslim Canadians are an important part of our national fabric, and these senseless acts have no place in our communities, cities and country."
About the shooters
On Monday, the Associated Press reported Quebec police have one suspect in custody in connection with the attack.
A witness told Radio-Canada, CBC's French-language service, that the shooters wore masked and spoke with Québécois accents. According to the witness, the shooters shouted "Allahu akbar!" as they fired, sparking rumors on social media that the attackers themselves were Muslim. 
Authorities have not confirmed any details of the shooting itself and have yet to identify a motive. Trump still hasn't condemned attacks
President Donald Trump, who spent the weekend under fire for his executive order that temporarily bans citizens of seven Muslim-majority countries from entering the United States, has yet to comment publicly on the Quebec City shooting. Instead, he spent much of Monday morning defending himself on Twitter:
Jan. 30, 2017, 1:34 p.m.: This story has been updated.