Oscar predictions 2017: SAG Awards give boosts to 'Hidden Figures' and Denzel Washington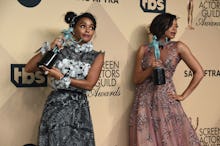 The 23rd Screen Actors Guild Awards managed to inject some much-needed drama into the seemingly already decided Oscar race, throwing monkey wrenches into a couple of categories, while sealing up others' chances at the big prize in February. (Congratulations, Viola Davis!)
Who's up, who's down and who's just happy to be nominated? Let's check in on three key races and where they stand after the SAG Awards.
Denzel Washington becomes a threat in best actor
Proof that it's not over until it's over: Denzel Washington won the outstanding male actor in a leading role prize over Manchester by the Sea's Casey Affleck, who won the equivalent Golden Globe and is heavily favored to take the Oscar. Did Affleck's fellow actors respond to the backlash against his awards run by voting for Washington instead? Or perhaps fellow thespians couldn't ignore the raw power in Washington's performance in Fences? Regardless of why, the win suddenly makes best actor competitive at the Academy Awards.
One note here: Washington had never won a SAG Award before. So while this is undoubtedly a huge visibility bump at the right time, it's also possible that Washington's win here was more about him winning among SAG voters. Then again, we're not sure the average SAG member would know Washington hadn't won. So take Washington's win with a bit of skepticism, but excitement that, in the awards season's final legs, best actor is becoming a race.
Hidden Figures gets a huge boost in best picture
We've been saying all along that Hidden Figures was wildly underestimated in the Oscars race. Some pundits didn't even think it could get a best picture nomination — which it did — and now has both box office success and a SAG award for best ensemble to its name. With Moonlight's buzz deflating a bit (including losing this award), it looks like Hidden Figures is the only real threat to La La Land's best picture chances.
It still faces near-insurmountable odds. La La Land (which, like Hidden Figures, passed $100 million at the box office this weekend) earned a monster 14 Oscar nominations, indicating support across all branches. Even if the actors lean toward Hidden Figures, there are other groups of voters who will vote for La La Land in a heartbeat. (La La Land didn't even earn a SAG nomination, so it technically didn't lose this award.) Plus, the La La Land backlash already hit its peak; Hidden Figures would need to trend upward as its competition falls from grace, and that's not likely to happen.
Oscar voting doesn't actually start for another two weeks, however. If Hidden Figures wants to rally a real challenge to La La Land, it has the time — and now it has the hardware, too.
Emma Stone's Oscar is all sealed up
Sure, Emma Stone's acceptance speech was kind of all over the place. So what? She's won the SAG Award and the Golden Globe now, only missing the Critics Choice Award among the major precursors. (Interestingly, her fellow front-runners, Affleck and Moonlight's Mahershala Ali, also both missed one precursor: the SAG Award and the Golden Globe, respectively. Only Viola Davis has won all three for Fences.)
Stone has the momentum; she has the enormous Oscar favorite in best picture (La La Land) and her perceived closest competition, Jackie's Natalie Portman, hasn't won anything since the Critics Choice Awards. Don't believe any hype that Isabelle Huppert could beat her at the Oscars for Elle: This is Stone's year.