Actor Simon Helberg walked the 2017 SAG Awards red carpet with a "Refugees Welcome" sign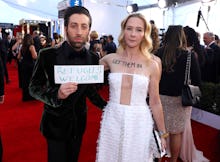 President Donald Trump's executive order barring refugees from entering the United States was on the minds of many people at the Screen Actors Guild Awards on Sunday night.
During acceptance speeches from people like Mahershala Ali and Julia Louis-Dreyfus to introductions at the beginning of the show from Kerry Washington and Ashton Kutcher, actors who look the stage used their platform to voice their concern. 
Before the show had even started, Trump's ban had made its way onto the red carpet, with Big Bang Theory actor Simon Helberg pairing his black velvet suit with a sign that read "Refugees Welcome."
He wasn't alone. His wife, actress Jocelyn Towne, had "Let Them In" scrawled across her chest. 
It was the most obvious display of support during a night filled with countless voices speaking out. 
Besides Helberg and Towne, Washington paired her white Roberto Cavalli gown with a safety pin on her shoulder, a sign of solidarity with those being targeted by the U.S. government right now. 
"I'll be wearing one of these tonight. On my arm," Washington wrote on Instagram before the show. "To show solidarity. We will not stop fighting for our safety & the safety of our fellow citizens and human beings. #NoBanNoWall #SafetyPin"
With political statements becoming a regular part of award shows, we can only expect that come Oscar time, more and more will be speaking up not only during the show — but on the red carpet too.