Zendaya recruits body shamed Twitter user to model her inclusive Daya by Zendaya clothing line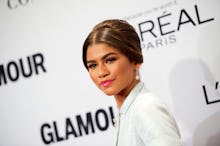 When Zendaya said "I want everyone to feel comfortable and confident" in her inclusive Daya by Zendaya clothing line, she really meant it.
So when the model-actress-entrepreneur-activist came across a Twitter user on the receiving end of viral meme shaming the young woman's body, she not only blasted the troll, she went and found Twitter user Honey Dip and hired her to model for Daya by Zendaya clothing line.
It all started when Twitter user Eskimo Jay posted a now-deleted tweet featuring side-by-side photos of Honey Dip: one of her face, one of her body. "Never trust a top half posting ass female lmfao," he wrote.
Zendaya caught word and decided (in one sentence, no less) to both call the man out for what she she called "stupid shit" and praise the young woman, whom she described as "fine as hell head to toe."
Not even a minute later, Zendaya continued, asking her 7.4 million Twitter followers if they could find her. "I'd love for her to be a Daya by Zendaya model," she wrote.
Twitter did not take long to track down the self-described "plus-size princess," who less than fifteen minutes later tweeted: "I'm really speechless right now because becoming a plus size model has been my number one goal."
Less then an hour later, an informal offer was tweeted via Daya by Zendaya's official account. "We are ready, when you are!!!" they wrote.
That tweet was met with immediate praise.
As for now, we'll have to wait and see what comes from the partnership, whether it be a photo shoot or a full-on campaign. No matter the result, this further raises Zendaya's legacy of epic clapbacks and hopefully serves as a lesson to trolls on why their mission is failing.
Mic has reached out to Daya by Zendaya for an update.