'Pokémon Go' Update Notes: Patch 0.55.0 and 1.25.0 goes live — Gen 2 secrets inside?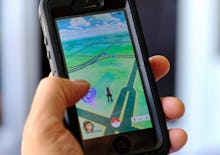 Not all Pokémon Go updates are worth much in terms of actually affecting gameplay in a fashion you'll notice. Patch 0.55.0 (Android) and 1.25.0 (iOS) recently hit the game, and though it doesn't include any major changes, it could be hiding some major secrets under the surface.
Here's everything included in Pokémon Go update 0.55.0 and 1.25.0, along with everything uncovered in preliminary data mines of the latest patch.
Pokémon Go update 0.55.0 and 1.25.0 improves game performance on multiple devices
Update 0.55.1/1.25.0 reduces how long it takes to load Pokémon Go on Android devices, fixed issues with the Pokémon Go Plus accessory not working properly with Android devices, and added support for Apple Watch.
Pokémon Go players didn't waste any time data mining update 0.55.0/1.25.0 to see what future events and features Niantic could be working on.
Pokémon Go Update 0.55.0 and 1.25.0: Experts give the new patch a quick scan
Dronpes, co-founder of The Silph Road, discovered a few points of interest in the update. First, there's a reference to "critical catch" within the update code. It's not clear what that means. A "critical" in video game parlance is an attack that does an extra amount of bonus damage, like a really powerful blow or a perfect sneak attack. It's not a gameplay term that applies easily to Pokémon Go at the moment.
There's also reference to a new item called a "candy reward," and speculation is that it may provide a bonus to candy drop rates. These are the two more concrete findings so far, which could potentially make their way into the game with a future Gen 2 update. We still don't know much, but a deeper look into the update should be on the way.
More Pokémon Go guides, tips, tricks and updates
Check out Mic's Pokémon Go tips and tricks. Here are guides on how to get stardust, how to determine how long it will take you to reach level 40, the kind of Pokémon you get from 10km eggs, how to create new PokéStops, how to maximize your chances of catching Pokémon and how PokéStops distribute Pokémon eggs. Also check out how to catch Gen 2 baby Pokémon, our analysis of post-balance update Chansey and Rhydon and everything you need to know about finding the long-awaited Pokémon Ditto.