Miss France Iris Mittenaere: 5 things you didn't know about the Miss Universe winner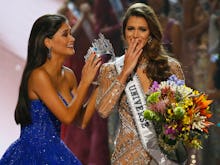 The Miss Universe competition is always brimming with beautiful women, but they're more than pretty faces. Of course, the competition only gives viewers a glimpse of who the contestants are with its swimwear, evening gown and personality categories. (A reminder that the pageant was previously co-owned by Donald Trump, who has come under fire for his sexist behavior toward Miss Universe contestants.) So you can be excused for not knowing much about Miss France Iris Mittenaere, the new Miss Universe winner. 
Here are five things you didn't know about the 24-year-old, according to the competition website:
1. She's the second French Miss Universe.
Mittenaere is just the second Miss Universe from France in the competition's history — the first was in 1953. She also is the first European winner of the pageant in over 10 years.
2. She's studying dental surgery. 
Currently, Mittenaere is in her fifth year of study in dental surgery. Oral hygiene matters to her — so much so that she will make pearly whites her official platform as Miss Universe. Keep an eye out for her awareness campaign.
3. She would've cooked if there had been a talent category.
The Miss Universe competition doesn't have a talent category, but Mittenaere says if there had been, she would've cooked. She considers cooking French food her special gift. 
4. She's huge on extreme sports.
Mittenaere may love cooking, but she couples that with her love for skydiving, hang gliding and bungee jumping. In fact, adrenaline rushes seem to be her thing. Check out this Instagram video she took while riding a helicopter:
5. She's passionate about travel. 
During her reign as Miss France, Mittenaere journeyed around the world. She says she probably traveled around the world four times in terms of mileage. Her passion for travel shone during the final question round of the competition. When asked about the global refugee crisis, she highlighted the importance of maintaining open borders.
"In France we want to have the most globalization we can," she said. "We want to have the biggest exchange of people that we can. Maybe someday that will change, but now we have open borders. Having open borders allows us to travel more through the world and to find out more about what's out there in the world."