Starbucks just announced it will hire 10,000 refugees in response to Trump's Muslim ban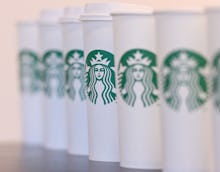 On Sunday, following cross-country protests against President Donald Trump's Muslim ban, Starbucks' CEO Howard Shultz announced plans to hire 10,000 refugees over the next five years in Starbucks shops across the world. 
"We have a long history of hiring young people looking for opportunities and a pathway to a new life around the world," Shultz wrote. He continued:
"This is why we are doubling down on this commitment by working with our equity market employees as well as joint venture and licensed market partners in a concerted effort to welcome and seek opportunities for those fleeing war, violence, persecution and discrimination.  There are more than 65 million citizens of the world recognized as refugees by the United Nations, and we are developing plans to hire 10,000 of them over five years in the 75 countries around the world where Starbucks does business."
The plan will begin in the U.S., Shultz said, where the company will start by hiring "individuals who have served with U.S. troops as interpreters and support personnel in the various countries where our military has asked for such support. "
In the same announcement, Shultz wrote that the company will build bridges, not walls, with Mexico, citing that the Starbucks has been working with the country since 2002, where they employ more than 7,000 people. 
While Shultz does not directly call out Trump in the news release, he is, perhaps, the most explicit he has been about his opposition against the administration. In September, the CEO publicly endorsed Hillary Clinton for presidential nominee, but has otherwise maintained somewhat of a separation between caffeine and state. 
Back in November 2016, the coffee giant unveiled a "unity" cup that some customers argued was too political. It comes as no surprise, then, that upon learning of the company's refugee plan, more consumers have voiced their dissatisfaction with the implicit political take. 
Even more, the hashtag #boycottstarbucks has appeared to resurface on social media.
Others, though seemingly fewer (maybe they're out protesting instead of commenting?), shared feelings of pride in learning of Starbucks' refugee efforts. 
Schultz's shared his announcement with only nine days of Trump in office. No matter which side coffee lovers fall on, they're surely going to need some extra caffeine to continue to fuel the fight.