Rihanna and Azealia Banks spent the weekend throwing shade over Trump and Banks' xenophobia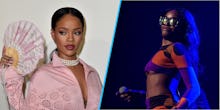 Do not adjust your screen brightness. The shade level on Instagram is through the roof. 
This weekend, pop superstar Rihanna expressed her support on Twitter for the thousands of protesters who took to airports nationwide.
"Disgusted! The news is devastating!" Rihanna wrote. "America is being ruined right before our eyes. What an immoral pig you have to be to implement such BS!!" 
When For Harriet posted the tweet on Instagram, rapper Azealia Banks, who supports Donald Trump and offered to perform at his inauguration, slithered into the comments section to spout some xenophobia. 
"Is she even American???? Can she even vote?" Banks wrote. "Trump is simply finishing the job, not because he wants to but because HAS to. If we don't, terror will spread through Turkey and into America." 
Rihanna wasted no time responding to Banks on Instagram, where she posted a kissy-face diss with the caption, "That face you make when you a immigrant." She included the hashtag "#stayawayfromthechickens" in reference to Banks' Instagram revelation that she had been sacrificing chickens in her closet.  
Banks shot back on her Instagram, in a series of since-deleted posts captured by the Shade Room. 
"What Rihanna meant was ... 'I grew up playing soccer in a dirt yard with a coconut and open my legs for any and every motherfucker who I think I can get to write me songs or buy me drugs.'" Banks went on to accuse Rihanna of using crystal meth and being "winded" during live performances. 
In another deleted post, captured by Complex, Banks said she "enjoys her safety" and she is "100% shook about open borders." 
Rihanna clapped back on Instagram and Twitter. On Instagram, Rihanna posted a shot of a person with an American flag-decorated bag over their head with the caption, "The face you make when you screaming in an empty room." 
She also doxxed the Broke With Expensive Taste rapper on Twitter, releasing her phone number. 
Banks responded by doxxing Rihanna, whose number is probably a little bit more in demand. 
Since the doxxing, both musicians have been silent about the dust-up. Rihanna shared a snap from her upcoming film Ocean's 8, while Banks, who was banned from Twitter after a feud with Zayn Malik and Skai Jackson, has posted a few selfies on her page.
Expect Banks to start some beef again soon. She landed more hits this weekend than she ever did making music.