Meet Rimmel London's first male spokesperson, 17-year-old YouTuber Lewys Ball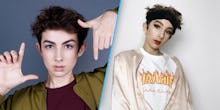 On the heels of James Charles becoming CoverGirl's first CoverBoy, Maybelline naming Manny Gutierrez as its first male spokesperson and MAC Cosmetics announcing a collaboration with male beauty blogger Gabriel Zamora, Rimmel London has now joined the trend of makeup companies embracing the fact that makeup isn't for one gender at all. 
For its 2017 campaign, Rimmel London has tapped British YouTuber Lewys Ball as the newest face. 
Ball, 17, announced the news last week with an Instagram post. "Get ready to Live the London Look," Ball wrote. "Super proud to announce I've joined @rimmellondonuk as one of the faces of their 2017 campaign."
And over the weekend, Ball posted the commercial where he'd be making his debut, which also stars a woman wearing a hijab, as well as top model Cara Delevingne. 
"Anybody can wear makeup, no matter who you are," Ball says in the ad. 
Ball's campaign comes on the heels of 18-year-old Georgie Aldous, who earlier this month launched a Change.org petition calling for more makeup companies in England to include men in their advertisements. 
"As a man that wears makeup, when I enter a store to see just women plastered everywhere and no men in sight, it does hurt me," Aldous said in a previous interview. "It makes you feel like you shouldn't be wearing it because you don't see men wearing it on the stands and adverts. It makes you feel alienated and not accepted by the brands that are featuring women only."
And now it seems that England is catching on with this Rimmel London campaign, at last. 
Mic has reached out to Rimmel London and Ball for comment.