What does Trump's ban do? 5 key things the immigration executive order has changed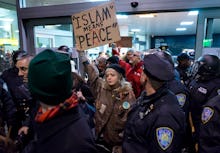 After protesters demonstrated at airports across the country over the weekend, President Donald Trump defended his executive order banning Muslim immigrants and refugees from certain countries from entering the United States.
In a statement on Sunday, Trump said that the U.S. will "continue to show compassion to those fleeing oppression" and claimed that "this is not a Muslim ban, as the media is falsely reporting." But critics say that the order is a Muslim ban "in all but name" and that it has thrown the U.S. into a "constitutional crisis."
In a Monday morning tweet, Trump himself referred to the executive order as a "ban" — seemingly stepping on his messaging from Sunday.
Here is what you need to know about the executive order Trump signed Friday:
It bars Syrian refugees from entering the U.S.
Last year, the United States' Syrian refugee program accepted 12,486 people. Trump's order indefinitely suspends that program, describing it as "detrimental the interests of the United States."
The executive order also suspends all refugees from entering the U.S. for 120 days.
It privileges Christian refugees over Muslims.
The order gives preference to refugees who are religious minorities in their country of origin, which Trump on Friday explicitly said was a reference to Christians.
"They've been horribly treated," Trump said on the Christian Broadcasting Network. "Do you know if you were a Christian in Syria it was impossible, at least very tough to get into the United States?"
"If you were a Muslim you could come in, but if you were a Christian, it was almost impossible and the reason that was so unfair, everybody was persecuted in all fairness, but they were chopping off the heads of everybody but more so the Christians," Trump continued. "And I thought it was very, very unfair. So we are going to help them."
An NPR fact check noted that Trump's claims are incorrect. The U.S. does not appear to have made it more difficult for Christians to enter the country – and Christian groups have expressed opposition to Trump's preference for Christian refugees over Muslim ones. The ban has been criticized by both Republicans and Democrats.
According to the ACLU, the order violates the Establishment clause, which requires that "one religious denomination cannot be officially preferred over another."
It lowers cap to 50,000 refugees in 2017.
Trump's executive order lowers the number of refugees to be admitted into the United States this year from the 110,000 people set by the Obama administration to just 50,000.
It blocks citizens from seven Muslim-majority countries from entering U.S.
The executive order barred people from Iraq, Syria, Iran, Sudan, Libya, Somalia, and Yemen from entering the United States for 90 days. The chaotic roll-out of the order made its implementation confusing over the weekend; legal permanent residents of the U.S. were detained at airports, but officials have since said the ban does not apply to green card holders. 
Two U.S. district court judges issued rulings Saturday ordering law enforcement not to deport detainees and to ensure detainees had access to lawyers.
It calls for "extreme vetting" of immigrants. 
On the campaign trail, Donald Trump called for "extreme vetting" to prevent terrorists from entering the United States. His executive order calls for new, tougher immigration screening measures.