7 contradictory quotes from President Trump on Planned Parenthood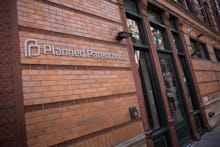 From the moment the Republican-controlled Congress convened in January, one organization has been in its crosshairs: Planned Parenthood. In the first days of its 2017 session, Congress immediately began working to defund the reproductive health organization. 
But how does President Donald Trump feel about Planned Parenthood? Well, it depends. The president, who once identified as pro-choice but now takes an anti-abortion stance, has had conflicting opinions about Planned Parenthood throughout his presidential campaign.
In 2015 and 2016, Trump consistently offered varying opinions on whether or not Planned Parenthood should be defunded completely and how much work the organization does besides performing abortions. While Trump at times referred to the organization as "like an abortion factory" and speculated the service could make up 85% of their work, he at other times acknowledged that Planned Parenthood helps millions of women and abortion is a "fairly small part of what they do." 
Abortions, Planned Parenthood has explained, make up just 3% of the services performed by the organization, whose services also include cancer screenings, birth control, STI/STD testing and treatment and more. Under the Hyde Amendment, it is already illegal to use federal funding for abortion procedures, except in cases of rape, incest and endangerment of the mother's life.
Here are seven quotes that sum up Trump's conflicting opinions on Planned Parenthood:
Aug. 3, 2015
When asked by radio host Hugh Hewitt if he would support a government shutdown in order to defund Planned Parenthood:
"I would and I was also in support — if the Republicans stuck together you could have done it with Obamacare also, but the Republicans decided not to stick together and they left a few people out there like Ted Cruz. ... If they had stuck together they would have won that battle. I think you have to in this case also, yes."
Aug. 11, 2015
In an interview with Chris Cuomo on CNN:
"Well, the biggest problem I have with Planned Parenthood is the abortion situation. It's like an abortion factory frankly. You can't have it and it shouldn't be funding it and that should not be funded by the government. I feel strongly about that. And that's my biggest issue with Planned Parenthood because when you look at the work they do, it's become so heavily centered on abortion.
In an interview with Sean Hannity on Fox News:
"Let's say there's two Planned Parenthoods in a way. You have it as an abortion clinic. Now that's actually a fairly small part of what they do, but it's a brutal part and I'm totally against it and I wouldn't do that. They also however service women. ...We have to help women. A lot of women are helped. We have to look at the positives, also, for Planned Parenthood. ... Maybe unless they stop with the abortions, we don't do the funding for the stuff that we want."
Aug. 16, 2015
In an interview with Chuck Todd on Meet the Press:
"Planned Parenthood has to stop with the abortions. A lot of people consider it an abortion clinic. I think those tapes that I saw were outrageous and disgusting by any standpoint. And they have to stop... I wouldn't fund it if they have abortion going on. Now, you hear all different numbers. They say it's 3%, other people say it's 85%. That's a big difference. So I'd certainly look into it."
When Todd asked if Trump would still support a government shutdown to defund Planned Parenthood:
"It's something I'd have to think about to be honest with you. I don't want to give a hard and fast answer to that. It bothers me greatly that they're doing the abortions. At the same time, women's health issues are, you know, very important to me."
Sept. 8, 2015
When asked by Bill O'Reilly on Fox News why Trump doesn't support cutting off Planned Parenthood funding and if he would defund it:
"I'm against Planned Parenthood — yes, I would. I don't know where you got this information. I never said that. ... I mean a lot of people say it's an abortion clinic. I'm opposed to that. And I wouldn't do any funding as long as they are performing abortions. And they are performing abortions.
Oct. 18, 2015
When asked by Chris Wallace on Fox News if he would shut down the government in order to defund Planned Parenthood:
"I do not want to say that because I want to show unpredictability. You have to. You can't just go around and say that.
Feb. 25, 2016
At the CNN-Telemundo Republican Debate:
"As far as Planned Parenthood is concerned, I'm pro-life. I'm totally against abortion, having to do with Planned Parenthood. But millions and millions of women — cervical cancer, breast cancer — are helped by Planned Parenthood.