When will 'Stranger Things' season 2 premiere on Netflix?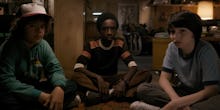 Fresh off its Screen Actors Guild win for outstanding performance by an ensemble in a drama series, Stranger Things fans have a big question on their minds: When will season two be released on Netflix? 
Unfortunately, we don't have a definitive answer, but we do have an educated guess. 
The announcement of the show's renewal came via YouTube in August. NME writer Helen Thomas guesstimates the second season will premiere this summer (season one was released in July.) Thomas cited a November Collider interview with director Shawn Levy, who said chances are slim the show would come out before then. 
"You can do a little bit of math, we're not magicians, so there's no way it launches in spring since I just admitted we started filming today, and we're doing nine [episodes]," Levy said.
Earlier this month, actor Caleb McLaughlin told TMZ the cast was still filming, meaning it would take quite the speedy turnaround for a spring release.
We know Stranger Things resumed production in November — thanks to a Twitter tip-off — but the cast isn't spilling much else.
People, E! News and other entertainment outlets found cracking the young cast at the SAG Awards to be an impossible task. McLaughlin, along with costars Finn Wolfhard, Gaten Matarazzo and Noah Schnapp, wouldn't share a single detail. 
"We've done two years of training on what not to say," Wolfhard told E! News. "It's called media training."
"I think I'm the hardest person to break," McLaughlin added. "I'm just that person."
Mic has ongoing Stranger Things coverage. Please follow our main Stranger Things hub.