People are trolling a Trump Hotels tweet from 2011 with pro-immigrant and pro-refugee messages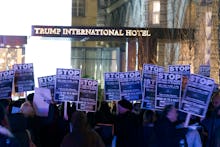 Most tweets maintain relevance for a few hours, maybe a few days. This 5-year-old tweet still has people talking. 
On Oct. 11, 2011, Trump Hotels Twitter account asked a very simple question to its followers: "Tell us your favorite travel memory — was it a picture, a souvenir, a sunset? We'd love to hear it!" It's the kind of light, non-political engagement tweet any social media manager has to craft a few times a week. 
Now, five years later, the same weekend Trump set a new record for disapproval ratings and thousands protested Trump's executive order effectively halting immigration from seven majority-Muslim countries and suspending refugee admission for a minimum of 120 days, people are responding to the innocent question in droves. 
Many of the memories people shared are about their families' histories as immigrants. Many of the stories included fleeing persecution. 
A few shared stories about people leaving or returning home during World War II. The stories often involved Nazis. 
Others recounted travels to one of the seven countries Trump placed on his "banned" list. 
Some shared memories of traveling — when going abroad as an American wasn't so embarrassing. 
Others are people who just want to bash Trump and his hotels. 
Then again, for one person, their memory only had to stretch back a few days.