Here's how Trump's immigration ban affects green card holders in the US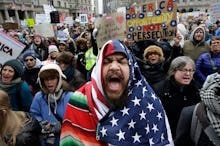 President Donald Trump's decision to ban immigrants from seven Muslim-majority countries, which spurred nationwide protests over the weekend, has also led to the detention of legal permanent U.S. residents in several airports. 
Does Trump's ban affect green card holders?
Trump's executive order sparked chaos and confusion across the country, in part because it wasn't immediately clear how the order applied to U.S. green cold holders. An unidentified source told CNN that career homeland security staff didn't see the final details of the order until Friday, the day it was issued. 
Speaking on NBC's Meet the Press on Sunday, White House Chief of Staff Reince Priebus said that "as far as green card holders moving forward, it doesn't affect them," according to CNN.
"If you're traveling back and forth, you're going to be subjected to further screening," he later added.
After a weekend of uncertainty, Homeland Security Secretary John Kelly announced Sunday that restrictions applying to the seven countries on the list did not affect U.S. green card holders. 
"In applying the provisions of the president's executive order, I hereby deem the entry of lawful permanent residents to be in the national interest," Kelly said in a statement. "Accordingly, absent the receipt of significant derogatory information indicating a serious threat to public safety and welfare, lawful permanent resident status will be a dispositive factor in our case-by-case determinations." 
What happens when green card holders enter the U.S.?
This is how the executive order is being interpreted with regard to U.S. green card holders from Iran, Iraq, Sudan, Syria, Somalia, Libya or Yemen, according to CNN: 
They are allowed to board their plane and fly to the United States. Once they land, their fingerprints and other information will be collected and they will be subject to a secondary interview, in part, to judge whether the traveler is a national security risk. 
More than 170 green card holders had been permitted entry to the United States as of 3 p.m. Sunday, a White House official told CNN.