'Overwatch' Year of the Rooster Update: It's not just you, this new patch is super buggy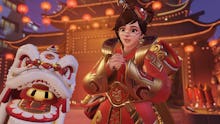 If you've been playing Overwatch during the Year of the Rooster event, it's likely you've bumped into a few bugs along the way. You're definitely not alone. Players have been flocking to the Overwatch forums and the Overwatch subreddit reporting tons of bugs — like the one that ejects D.Va into another dimension — since the patch launched last week.
So, what the hell is going on? Let's discuss.
Overwatch Year of the Rooster bugs
Here's a quick overview of some of the biggest bugs players are reporting on Reddit and the Overwatch forums, organized by whether Blizzard has officially addressed them or not.
Bugs Blizzard has acknowledged:
• If a player is inactive at the start of a match and gets booted without ever having picked a character, the match will proceed and the teams will remain uneven for the remainder of the match. Blizzard said a fix for this will roll out "as soon as logistically possible."
• Players are sometimes removed from matches for inactivity without warning, despite staying active. Blizzard said this would "absolutely be a bug" if it is occurring as described, but has not said whether a fix is coming yet.
• Players from opposing teams sometimes appear in the same spawn room between rounds. Blizzard responded to a thread on the Overwatch forums reporting a similar issue and said it is "looking into it."
• Mercy's Guardian Angel ability settings are resetting or changing between rounds, causing players to only fly about halfway to their target by accident. This is on Blizzard's "known issues" list.
• Players are reporting a similar issue with Lúcio's Crossfade ability, where its settings are changing in between rounds.
• Sombra's Translocator doesn't always work, causing her to teleport to her current location instead of where she placed her beacon. This bug seems to be on Blizzards "known issues" list, though it's phrased slightly differently.
• Players sometimes do not receive the achievement-locked sprays from the new Capture the Rooster mode. Blizzard has acknowledged there is an issue with these achievements when playing as D.Va.
• When D.Va loses her mech in three-versus-three matches, she ejects into space and dies. Blizzard is aware of the bug and is "currently looking into it."
• Mei's spine looks awkwardly caved-in when she wears her Year of the Rooster skins — which sent the fandom into a massive debate, by the way. Blizzard is aware of the bug and said a fix is coming soon.
Bugs Blizzard has yet to publicly address:
• Reinhardt's shield is not cracking as it normally does when it's low on health. This issue seems to be limited to his Year of the Rooster skin.
• Zarya's ultimate ability sometimes randomly vanishes.
• Players' health bars sometimes look like a countdown clock or a time display.
Overwatch Year of the Rooster Patch Update: Blizzard working on bug fixes
Bugs are to be expected in any new patch — the "bug fixes" section on every batch of patch notes is always quite long — but the Overwatch community seems to be in agreement that the Year of the Rooster update is particularly troublesome, especially since Blizzard has a reputation for highly polished games. Perhaps the volume of bugs is pretty typical, but they just happen to be affecting more players this time around. It's not clear exactly what's going on.
It might be simply a time management issue. The last seasonal event, Winter Wonderland, wrapped up just a few weeks before Year of the Rooster launched, whereas previous seasonal events had several months between them. It's possible the development team — and thus, by extension, the people responsible for testing new patches for bugs — simply had less time than usual to iron everything out.
Regardless, hopefully, this is a learning moment for the Overwatch team. The high number of seasonal events Overwatch has had is great for its players, but if Blizzard plans on having two seasonal events in such close proximity, it needs to plan ahead. Blizzard needs to devote extra resources to make sure it doesn't have to outsource quality assurance to the fandom, or else it risks losing that shiny, polished reputation it's spent years cultivating.
Mic has reached out to Blizzard and will update with any response.
More Overwatch news and updates
For more on Overwatch, check out the rest of what Mic has to offer. Here is the latest developer update where Overwatch director Jeff Kaplan explains the new Capture the Rooster mode, the full patch notes for Overwatch version 2.03, a full explanation of the different types of health in Overwatch, the latest rumor of a Terry Crews-voiced Overwatch character, our definitive ranking of every Overwatch hero, a roundup of awesome gender-bent Overwatch cosplay and a giant Overwatch FAQ for beginners.