Here's what you should know about the ACLU's lawsuit against Trump's executive order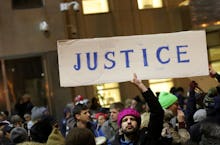 On Friday, President Donald Trump signed an executive order that seemed to make good on his campaign promise to ban Muslims from entering the United States. The next day, the American Civil Liberties Union was in a court in Brooklyn, New York, challenging that order. 
The executive order bans Syrian refugees and citizens from seven majority-Muslim countries — Iraq, Syria, Iran, Sudan, Libya, Somalia and Yemen — from entering the United States. By Saturday, the executive order, which went into effect immediately, had already trapped refugees, immigrants and visa holders in airport detention.
How did the ACLU challenge the executive order?
As people waited behind closed airport doors under threat of deportation, the American Civil Liberties Union moved to challenge the order in court for violating the Due Process and Equal Protection Clauses of the U.S. Constitution, according to a statement released late Saturday night from ACLU executive director Anthony D. Romero. 
The ACLU's case named two plaintiffs, both men who were being detained Saturday at John F. Kennedy airport in New York. One of them, Hameed Khalid Darweesh, served as an interpreter helping U.S. troops in Iraq for more than 10 years, the New York Times reported. 
"We immediately got a hearing and argued our case," Romero said.
Around 9 p.m. Saturday, U.S. District Court Judge Ann M. Donnelly ruled that the government could not forcibly deport refugees or people with valid visas. The Times reported that Donnelly's "one-page ruling came swiftly after lawyers for the ACLU testified in her courtroom that one of the people detained at an airport was being put on a plane to be deported back to Syria at that very moment."
As the ACLU lawyers argued in court, demonstrators opposed to Trump's executive order gathered outside the federal courthouse in Brooklyn, chanting "let them in" and "A-C-L-U/ We are here we stand with you." When the news reached the crowd that Donnelly had issued the stay, huge cheers erupted.
Romero described that moment in his statement, saying: 
When I and staff attorney Lee Gelernt emerged from the courthouse, we were met with a sea of people cheering and chanting. I cannot express how humbling and inspiring this moment is ... Tonight was one of the most incredible experiences of my life, one that demonstrates that the people united will never be divided. This is only the beginning. This is merely the first skirmish in a long battle to vigorously defend the Bill of Rights from the authoritarian designs of the Trump administration.
What does the ruling mean?
While the ruling was hailed as a victory, it's a limited one. According to the Times, Donnelly's ruling "does not appear to force the administration to let in people otherwise blocked by Mr. Trump's order who have not yet traveled to the United States." Donnelly did not, as Romero clarified in his statement, rule on whether or not Trump's order is constitutional. "But for now, the men and women who would have been deported are safe," he said.
The Department of Homeland Security released a statement Sunday that it would "remain in compliance with judicial orders," but added it would "continue to enforce President Trump's executive order."