'Pokémon Go' cheat apps for Android and iOS that don't require a root or jailbreak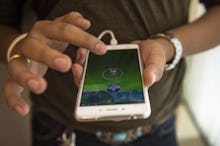 Pokémon Go cheat apps have been popular since the game first launched, but players that like to cheat are running out of options. 
In January, two high-profile cheat sites were forced to close down following the receipt of cease-and-desist orders from The Pokémon Company for use of copyrighted images. Developer Niantic has also made changes to Pokémon Go to prevent people from tapping into the game and scrubbing data.
There are still a few hacks left, but it's in cheaters' best interests to learn how to play the game properly. After all, they may have no choice someday in the near future.
Pokémon Go cheat apps that are still operating
In terms of cheat apps, GPS spoofing is one remaining option that doesn't require rooting your Android device or jailbreaking your Apple device. However, GPS spoofing could also get you banned from the game if Niantic decides to bring down the hammer. Reports of players that use bots, or automated Pokémon Go accounts, receiving permanent bans recently surfaced, and spoofing could potentially be next.
Another cheat, this one discovered in late 2016 and now just being experimented with, involves making changes to OpenStreetMap to alter map tags and create new areas where Pokémon may spawn. So far reports of this technique mostly revolve around legitimate changes like updating land that formerly belonged to the military and tagging it as a park if the tag was missing. 
The potential for abuse is obvious, however. OpenStreetMap can easily become a hack for Pokémon Go, as the project is open source and anyone can edit it. It may be up to other players and volunteers to recognize and correct the false tags introduced to OSM purely to catch more Pokémon.
Pokémon Go cheat apps ruin the game for everyone
Before you consider using a cheat app or some other hack, please give it careful thought. Beyond the possibility of a ban, you should also consider the impact you'll have on other players. Using cheats can give players an unfair advantage, whether it's a bot that quickly boosts you to level 40 or a GPS spoof that lets you catch rare Pokémon and mess with gyms in other areas.
More Pokémon Go guides, tips, tricks and updates
Check out Mic's Pokémon Go tips and tricks. Here are guides on how to get stardust, how to determine how long it will take you to reach level 40, the kind of Pokémon you get from 10km eggs, how to create new PokéStops, how to maximize your chances of catching Pokémon and how PokéStops distribute Pokémon eggs. Also check out how to catch Gen 2 baby Pokémon, our analysis of post-balance update Chansey and Rhydon and everything you need to know about finding the long-awaited Pokémon Ditto.