Groundhog Day 2017 predictions: Will Punxsutawney Phil see his shadow?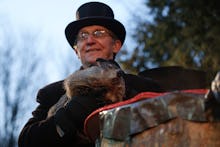 Thursday marks one of the most symbolic and least scientific holidays in America: Groundhog Day. It's a day in which a furry creature, also known as a woodchuck or whistle-pig, determines if winter will continue for six more weeks or if spring will arrive early — all based on whether or not he sees his shadow. If the groundhog does not see its shadow, spring will come early; if it does see its shadow and retreats inside, winter will continue for another six weeks. 
Punxsutawney, Pennsylvania, is the site of a large Groundhog Day celebration. On the morning of Feb. 2, a groundhog named Phil gives his "forecast" on Gobbler's Knob, a small hill. The town celebrates Phil's fame with an entire week of events honoring the holiday, including a crowning ceremony and a Groundhog Ball masquerade. It's a yearly tradition that first started in 1887.
Based on past predictions, it's safe to bet Phil will see his shadow, although he did not in 2016. According to NPR, on that 22-degree morning, the Groundhog Club emcee shouted, "An early spring is my forecast! Take your jackets off, you're not going to need them!" But jackets were needed for several more weeks, as the winter temperatures remained cold and became even colder before spring, with several snowstorms hitting New England. 
In the past, Phil has seen his shadow almost 87%  of the time, but his predictions have been accurate only 39% of the time.