'How to Get Away With Murder' stars dish out pizzas at LA International Airport protest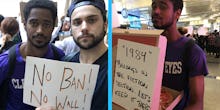 Hungry #NoBanNoWall protesters were treated to pizza from some famous fellow activists over the weekend. 
Alfred Enoch, who portrays Wes on ABC's How to Get Away With Murder, posted up at Los Angeles International Airport to hand out slices. 
Enoch was one of several activists delivering food at protests across the country. A Muslim-American family gave out 30 pizzas at John F. Kennedy International Airport in New York City, the Daily Beast reported. From San Francisco International Airport to JFK to Dallas/Fort Worth International Airport, snack foods, coffee and water littered the terminals at airport protests. 
Jack Falahee, another HTGAWM actor, posted a photo of Enoch to his Instagram. In the photo, Enoch is seen holding a pizza box with a makeshift sign suggesting America should avoid becoming like the world in George Orwell's 1984, the dystopian fiction novel that describes an authoritarian society.  
Several other HTGAWM actors joined the resistance against President Donald Trump's executive order over the weekend. Kendrick Sampson, who played Caleb in season two, and Matt McGorry, who plays Asher, were also spotted on the ground at LAX on Sunday. 
Sampson was a prominent backer of Bernie Sanders during the presidential primaries and has also supported the Black Lives Matter movement. Dubbed "woke bae" by some, McGorry has been outspoken on Black Lives Matter, feminism, the Dakota Access Pipeline and other social justice issues. 
Sampson posted a video of the two costars chanting with protesters at LAX. 
During the Women's March on Washington, Trump tweeted that "celebs hurt cause badly." But that criticism hasn't stopped some actors from loudly protesting Trump's executive orders. 
"I believe artists are citizens like everybody else and we have the right to have our voice be heard," John Legend told Mic last week. "It's always ironic when the guy who's the head of Celebrity Apprentice talks shit about celebrities being involved in politics ... He obviously knows the power of celebrity or he wouldn't be president." 
In the past, some activists have been less-than-thrilled when celebrities eagerly announce their dedication to social justice. Kristian Wilson, a journalist at online magazine Lady Clever, criticized McGorry's activism in May 2016, noting his brand of feminism was sometimes problematic because he did not take criticism from other activists who reached out to him. Writer Megan Reynolds at The Frisky issued a reminder "to McGorry and male feminist allies like him" — "the best thing you can do, always, is listen." 
If McGorry, Enoch and other celebrities can truly collaborate with activists and listen to communities and individuals threatened by Trump's administration, their star power could help the resistance shine just a bit brighter.