Sia, Grimes, Jack Antonoff and more pledge to match donations to civil rights organization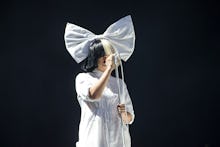 Civil rights organizations will likely see their federal funding gutted under the Trump administration, but they're managing to make up for the funding gap in other ways. Over the weekend, while protests against the "Muslim ban" Donald Trump enacted Friday raged at airports around the country, celebrities from Grimes to Judd Apatow to Jack Antonoff worked Twitter to encourage their fans to support the organizations that will be working to resist and mitigate the damage this legislation may do over the next few years.
Heavily wigged singer-songwriter Sia was one of the first to make the call, pledging to help "our queer and immigrant friends" by matching up to $100,000 in donations to the American Civil Liberties Union.
Apatow and Rosie O'Donnell both picked up the call.
At the indie level as well, artists such as Grimes and Antonoff of Bleachers and Matt Wigham, CEO of Big Cartel, an ecommerce platform designed to support independent artists, made their own promises to match slightly smaller, but undoubtedly significant, sums. Grimes changed it up and directed donations to the Council on American-Islamic Relations.
Grimes hit her matching total in around three hours.
Modern Family actor Jesse Tyler Ferguson offered to match a $10,000 sum to the ACLU Sunday.
Celebrity investors Chris Sacca and Tony Fadell and inventor and Intercom CEO Eoghan McCabe also offered their own sums, highlighting the important role the ACLU has been playing in holding Trump accountable.
Donations add up in big way 
CNN reported Monday that the ACLU raised $24.1 million from online donors, six times what it normally raises in a year. The organization plans to increase its staffing and orchestrate more legal challenges to the Trump ban, and ACLU Executive Director Anthony Romero told CNN he expects their lawsuit will reach the Supreme Court.
This is exactly the "silver lining" that indie folk outfit Pinegrove described to Mic in explaining its other own Southern Poverty Law Center charity drive earlier in January. The band said in an email conversation: "If there is one silver lining to be taken from the election, it's that a lot of people are doing the same."  
It's somewhat unfortunate that's it's taken nothing short of an absolute constitutional catastrophe to encourage celebrities and donors to support the country's civil rights organizations en masse. Considering we're only in week two of the Trump presidency, it likely won't be the last time we see celebrities use their platforms to direct attention to the voiceless.