Mariah Carey's new song "I Don't" is inspired by her split from James Packer and the lyrics are fire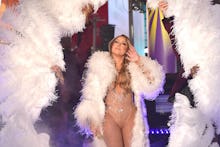 Mariah Carey is taking the advice of Carrie Fisher and turning her heartbreak into art. On the season finale of Mariah's World, the singer-songwriter featured a new song titled "I Don't," which was inspired by the end of her engagement to Australian billionaire James Packer. 
Carey shared a clip of the song on Instagram, including the lyrics, "Cause when you love someone, you just don't treat them bad, you messed up all we had. Probably think I'm coming back, but I don't, I don't." 
Woman's Day broke the news of the duo's split in October. Packer reportedly had reservations about the star's reality E! TV show, Mariah's World, among other concerns about their relationship. 
Carey addressed the breakup on the show, saying, "Ever since the tour wrapped, I took some time just to process my feelings and I started writing a song to express what I've been going through. And if you're not getting the love that you need from someone that you're supposed to be in a real relationship with, then why remain in that situation?"
"I Don't" will drop on Feb. 3. Check out some more of the lyrics, courtesy of Genius, below:
Somewhere in another life