The #DeleteUber movement is still going viral — but here's what you should know about Lyft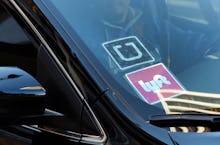 On Friday, President Trump signed an executive order that indefinitely bans Syrian refugees, suspends all refugee admission for 120 days and prevents immigrants from seven predominantly Muslim countries — Iran, Iraq, Libya, Somalia, Sudan, Syria and Yemen — from entering the United States for 90 days. Protesters united at New York's John F. Kennedy International Airport (and airports around the country) to rally against Trump's unconstitutional order.
Taxi drivers in New York went on strike on Saturday to join the protests, and the New York Taxi Workers Alliance called for all drivers, including those working for ride-sharing apps, to join the protest. In a Facebook post, the organization called for drivers to avoid pickups at JFK from 6 to 7 p.m. "Stand in Solidarity With Thousands Protesting Inhumane, Unconstitutional Ban of Muslim Refugees and travelers," the post read. "Be united brothers & sisters for a just world. We cannot be silent."
Uber, however, responded a different way: by suspending surge pricing — a feature that increases transportation rates when there is high demand in a given area — at JFK. 
Many saw the announcement as an attempt to undermine the protest and profit off the strike. This, coupled with Uber CEO Travis Kalanick's role as a member of Trump's business advisory group, prompted a social media campaign to remove the Uber app and deactivate accounts.
Enter #DeleteUber.
As the call to boycott the car-service app went viral, some people on Twitter encouraged users to opt for alternatives like Lyft.
The pro-Lyft advocacy here was well-intentioned. Why not support ride-sharing competitors and avoid a monopoly while making your voice heard? But people who want to show support for anti-Trump activism should know Lyft has a troubling affiliation as well.
Lyft announced a big donation to the ACLU Sunday, saying it is "firmly against" Trump's actions.
While Uber faced backlash from critics, Lyft co-founders John Zimmer and Logan Green announced Sunday that the company would be donating $1 million to the American Civil Liberties Union over the course of the next four years. The ACLU, which has received more than $24.1 million in donations since Trump's order, successfully challenged parts of Trump's order in court over the weekend.
"Banning people of a particular faith or creed, race or identity, sexuality or ethnicity from entering the U.S. is antithetical to both Lyft's and our nation's core values," Zimmer and Green wrote. "We stand firmly against these actions, and will not be silent on issues that threaten the values of our community."
But Lyft has a Trump connection, too.
Lyft's donation to the ACLU is unquestionably valuable, but its position is more complex. Lyft investor and venture capitalist Peter Thiel is a Trump supporter who sits on the president's transition team and contributed $1.25 million to his presidential campaign. 
USA Today reported that Thiel has no problem with Trump's immigration order. "Peter doesn't support a religious test, and the administration has not imposed one," said Thiel's spokesman Jeremiah Hall in a statement.
Thiel, a co-founder of PayPal and a board member of Facebook, has previously donated $1 million to anti-immigration lobbying group NumbersUSA, written in a 1996 Stanford magazine article that affirmative action programs are "racism" and referred to date rape as "seductions that are later regretted" in his 1995 book The Diversity Myth: Multiculturalism and Political Intolerance on Campus. He has apologized for the latter. Thiel is also an outspoken critic of Uber, which he's called "ethically challenged."
"We don't always agree with our investors and aren't afraid to say so," Lyft told Mic. "We do respect their right, and that of every American, to freedom of expression."
Meanwhile, Uber has been busy doing damage control. It announced it would set up a $3 million legal defense fund for drivers. Kalanick said in a blog post on Saturday that the company will be reaching out to employees impacted by the immigration order and compensate those affected. "We are working out a process to identify these drivers and compensate them pro bono during the next three months to help mitigate some of the financial stress and complications with supporting their families and putting food on the table," Kalanick wrote.
You can break up with ride-sharing for good
If you're looking for a car service completely untainted by Washington's influence, there's still a wealth of options, from official taxi services in your town to independent apps like Curb that offer ways to get around.
Feb. 2, 2017, 12:29 p.m.: This story has been updated.