Samantha Bee's alt-White House Correspondents' Dinner is the roast we'll need in 2017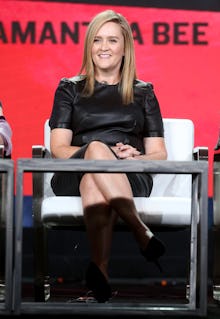 When Hillary Clinton unexpectedly appeared on Between Two Ferns with Zach Galifianakis — which ended up being a huge hit — the comedian said he would never consider bringing on Donald Trump to do a similar segment because he wouldn't want to "have somebody on that's so mentally challenged." It's a harsh quote, but it stems from a sentiment that has been proven time and again with Trump's continuous tweets about Saturday Night Live: Our president can't take a joke. 
As a result, it's hard to imagine any situation in which comedians will have free rein at this year's White House Correspondents' Dinner — typically, a platform where journalists, White House staff, politicians and the president poke fun at one another and, as some would critique, cozy up to one another. Really, would any host be able to take a single jab at Trump? 
It seems unlikely, so Full Frontal host Samantha Bee has come up with the perfect solution: a separate White House Correspondents' Dinner-like event (just an FYI: it's BYOB) where Trump roasting will certainly be welcome. According to the New York Times, which broke the story of Bee's "Not the White House Correspondents' Dinner," Bee will hold the event a few miles away from the real thing, and all proceeds from the event will go toward the Committee to Protect Journalists.
"We're not trying to supersede it," Bee told the Times. "We just want to be there in case something happens — or doesn't happen — and ensure that we get to properly roast the president." 
Bee's roast is rather innocuous in the grand scheme of things: a comedic event that'll surely bring in some laughs and, hopefully, strong proceeds to the CPJ. However, it'll undoubtedly ruffle the feathers of Trump, who gets riled up by any slight against him — again, just ask SNL, Alec Baldwin or 2011 White House Correspondents' Dinner host Seth Meyers. 
As for the actual White House Correspondents' Dinner, Bee has a host suggestion that should appease POTUS' thin skin. 
"I honestly can't imagine who they're thinking, but I really wish them well," she said. "I think that's going to be very challenging. Does Three Doors Down do comedy?"