'The Bachelor' villains: Corinne Olympios and 6 of our favorite contestants from past seasons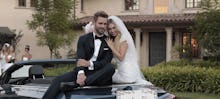 Every season of ABC's The Bachelor has at least one villain, and this season the main villain is Corinne Olympios. The blonde business owner knows what she wants, and that's Nick Viall. Her desire to land her man has caused some tension amongst the other contestants. But, as everyone knows, she's not on the show to make friends.
Corinne became the villain on night one when she bragged about being the first one to kiss Nick. (Although, technically, Liz has that honor.) From there, things escalated in the house when she took a nap in lieu of a rose ceremony, went topless during a photo shoot with Nick and brought out a can of whip cream for some pre-rose ceremony phone. There is no denying that Corinne and Nick have chemistry, but Corinne's behavior is not helping Nick shake his playboy image with the other women. 
The ladies still in the running for Nick's heart may be bidding adieu to the 24-year-old Miami native sooner, rather than later. Episode five will find Nick taking house enemies Corinne and Taylor Nolan out on the dreaded two-on-one date. And unfortunately for one of those ladies, someone will be sent packing. 
Will Corinne be able to successfully convince Nick that Taylor "emotionally attacked" her? Or will Taylor expose Corinne's villainous ways? Take a walk down memory lane with some of our other favorite Bachelor villains from past seasons.
Olivia Caridi, season 20
Like Corinne, Olivia made it clear that she wasn't looking to make friends on the show. Her biggest villain moment of the season came when she compared single mom Amanda Stanton to MTV's Teen Mom. The other women told Ben about Olivia's behavior, which ultimately led to her getting dumped and stranded on an island.
Leah Block, season 20
Olivia wasn't the only villain on Ben Higgins' season. Once Leah realized that she wasn't frontrunner, she attempted to sabotage Ben's relationship with fellow contestant Lauren Bushnell by telling him lies. The best part was that she refused to confess to what she did. Leah ended up eliminated and Lauren went on to win the season.
Kelsey Poe, season 19
Kelsey, a widow, was so hell-bent on getting her fairytale ending with Chris Soules that she alienated all the other contestants. Her feud with Ashley Iaconetti made for one of the best two-on-one dates of all time. Chris got fed up with both their bickering that he eliminated both of them during the date and left them in the desert.
Britt Nilson, season 19
Was Britt really a villain? That's up for debate amongst fans. She makes our list because there was some speculation about her not being on the show for the "right reasons." Her fellow cast members accused her of trying to become the next star of The Bachelorette — which kind of came true. Season 11 of the series featured Britt and Kaitlyn Bristowe. The male contestants who were cast got to vote for which woman they wanted to pursue, and Britt lost the vote.
Courtney Robertson, season 16
Courtney made sure to own her title as "villain" in her 2014 tell-all book, I Didn't Come Here to Make Friends. Besides saying mean things to her co-stars, Courtney is probably best known for having sex with Ben Flajnik in the ocean.
Juan Pablo Galavis, season 18
Juan Pablo somehow ended up as the villain of his own season. He a had a couple big blowouts — one being that he told contestant Andi Dorfman that she was there by "default." Needless to say, that didn't go over well. Things got even uglier during the finale when he dumped Clare Crawley. Clare fired back by telling The Bachelor star that she would "never" want her children to have a father like him. 
The Bachelor airs on ABC on Mondays at 8 p.m. Eastern.
Mic has ongoing Bachelor coverage. Please follow our main Bachelor hub.