Never pay full price: A monthly guide to the best time to buy TVs, cars, furniture and more, on sale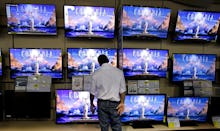 Ever get caught in a rain storm, and felt forced to buy one of those excessively priced umbrellas from a seller who seemed appear just at the right moment? That's the power of supply and demand — deals (and ripoffs) are all in timing.
Luckily, you can sometimes benefit from this same time-dependency — by buying items during off-months: Motorcycles are cheaper in January, and gym memberships go for a song in June. Demand is lower and so, often, is cost.
Weirdly, there are also times you can get deals even at peak popularity.
The demand for a new TV may grow in the weeks leading up to the Super Bowl, for example, as people are thinking about gathering with friends to watch the game. Yet some of the best deals can be found then, too.
Of course you will almost always pay top dollar for the latest and greatest, and the discounted televisions in question tend to be last year's models, since stores are looking to make room for newer versions.
So if you're looking to save money, forget trying to be an early adopter. Instead, focus on the best bargain-hunter strategies: Buying off season, buying at the end of a season and dashing for the doorbusters.
Indeed, the other time you can get a deal on TVs is during Black Friday sales the day after Thanksgiving. Those deals are offered at the moment of peak demand at a steep discount to get people in the store for a deal — mainly in the hopes they'll buy other (unplanned) things as well.
But you are too smart to get sucked in by impulse purchases.
In that spirit — shopping smarter — here's a month-by-month calendar for when the greatest deals occur on products from coats to cars to candy and more.
The best stuff to buy in January
Linens, bedding and towels: Many stores hold annual "white sales" in January, a legacy of department store owner and marketer John Wanamaker — who held his first sale of linens and bedding in 1878. Stores like Wayfair, JCPenny, LL Bean and Target have had discounts as deep as 50%.
Fitness equipment: These sales, aimed at those with healthy-living resolutions, come right at the peak. The discounts can be as much as 50% off at outlets like NordicTrack, Cabela's and Running Warehouse, according to DealNews. 
Flooring and carpeting: Many people buy carpeting or floor-coverings after October and up through the first week of December, in preparation for the holidays. So come January, the schedules open up and the prices drop. Other busy flooring times, according to CarpetSuperSite, are between February 20 and April 30 when people are expecting a tax refund, and between July 4 and Labor Day, when families are remodeling or getting new homes ready to move into ahead of school starting.
Christmas decor: Most typical purveyors of Christmas decorations — places like Lowe's, Target, Bed Bath and Beyond, Pottery Barn or Home Depot — put them on steep discount after the holidays. 
Motorcycles: For obvious off-season reasons, wintertime is the best time to buy motorcycles — and January in particular offers many good sales. The showrooms are looking to move out last year's models to make way for the new ones arriving for the spring.
Furniture: Some specific kinds of furniture have their own best times to buy, but generally January is a great time to buy furniture, as new models typically  hit showrooms in February.
The best stuff to buy in February
Winter apparel: Many retailers use the Presidents' Day as a marker of when spring clothes come out — and have big splashy weekend sales to get the boots, coats and sweaters off their shelves. Deals to be found abound.
Televisions: Last year's models of televisions have their steepest discounts during the two weeks running up to the Super Bowl.
Household items: Presidents' Day sales are the biggest sales around, until Memorial Day sales come around at the end of May, according to DealNews.   Household items, like stuff for the kitchen, bedrooms and bathrooms (as well as home improvement products) are discounted to clear out holiday surplus.
Fine chocolate: High-end chocolate, which virtually never goes on sale, is marked down heavily after Valentine's Day.
The best stuff to buy in March
Luggage: The winter vacation season is over and stores are prepping for the summer vacation season — so March is the time to get a deal on last year's luggage models. 
Phones or tablets: Tech deals are now largely dependent on Apple unveilings or consumer electronics shows. These are common from January through March. After the newest gadget hits the shelves, you'll see the most recent version marked down.
Cruises: The "wave season" runs from January through March and is the time when cruise companies offer their steepest discounts.
The best stuff to buy in April
Sneakers: Those non-serious runners who are gearing up for outdoor activities when the weather warms can find deals on sneakers this time of year.
Used cars: Many car dealers pick up used inventory at auction this time of year and look to pass it along quickly — for cheap.
The best stuff to buy in May
Refrigerators: Most appliances come down in price later in the year, but refrigerators are knocked down in price in May, when the new models arrive. 
Mattresses: While mattress deals can be found year round, the spring sees quite a few reduced prices, according to Consumer Reports. Expert tip: Read Mic's ultimate guide to buying a mattress.
The best stuff to buy in June 
Gym memberships: Come summer, many fitness buffs head outside for their workouts — leaving gyms trying to court new members with discounts.
Lingerie: Victoria's Secret holds a semi-annual sale, which marks down underwear by as much as 50% — and this often leads the way for other lingerie brands or clothing retailers that sell underthings.
The best stuff to buy in July 
Air conditioners: This is the time to buy a window air conditioner.
Summer apparel: Summer clothes, including swimwear, have their biggest discounts in July.
The best stuff to buy in August 
Office supplies and storage: As part of back-to-school sales, office supplies and office furniture are discounted.  
Laptops: August is when many retailers launch their back-to-school sale for laptops and will have the deepest discounts. Apple has an educational discount, and often adds in another freebies during this time as a bonus.
The best stuff to buy in September
Gas grill: Wait until the prime grilling season is over, and purchase in September, when you can get the best deals, according to DealNews.
Patio furniture: The summer is over and thus September is the time to score a deal on your new set — to enjoy next year.
The best stuff to buy in October
Camping gear: Camping season is over in most places and retailers are looking to move inventory to make space for incoming models.
Jeans: One of the common items left in inventories after back-to-school sales, jeans are discounted in October.
The best stuff to buy in November
Candy: They may have pumpkins and ghosts on them, but the candy is still good — just at a cheaper price.
Appliances: Washers, vacuums and dishwashers have their biggest discounts in November, including deep markdowns around Black Friday.
Tools: The season has set on outdoor work — so tools are marked down. 
TVs and other electronics: Black Friday deals typically offer significant discounts on TVs and other big-ticket devices. 
The best stuff to buy in December
Smaller electronics: Tablets, gaming consoles, small electronics and camcorders have been marked down.
Dishwashers: As people look to upgrade their kitchen before holiday guests arrive, dishwashers are in demand and sales can be found, according to Consumer Reports.
Cookware: Pots and pans and other cookware are often at their best prices in December.
Toys: Children's toys are often among the most popular doorbusters for Black Friday sales — but the spot deals continue through December.
Sign up for The Payoff — your weekly crash course on how to live your best financial life. Additionally, for all your burning money questions, check out Mic's credit, savings, career, investing and health care hubs for more information — that pays off.