Here are the elected officials who showed up to airport protests over the Muslim ban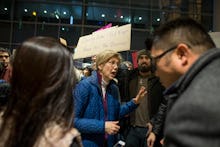 Protests roiled airports across the United States over the weekend as thousands gathered to condemn President Donald Trump's executive order. Controversy had erupted over the detention and attempted deportation of legal permanent residents and refugees who had already been vetted and approved to come to the United States.
Peppered among the protesters were some Democratic elected officials. They had come to help refugees and green card holders being held thanks to Trump's executive order. In some cases, the lawmakers sought to prevent U.S. Customs and Border Protection agents from defying court-ordered stays on the detentions and deportations.
All of the members who joined the protests were Democrats. Many of them went to protests in New York and Washington, D.C., at major international airports that receive lots of international travelers. Others headed to a handful of different major international airports where people were being held. 
Members of Congress and other elected officials also attended rallies in the heart of New York and Washington, D.C., to protest the executive order.
Here is a list of the Democratic lawmakers who participated.
Sen. Elizabeth Warren (D-Mass.)
Warren headed to Boston's Logan International Airport — where a handful of Iranians and others were detained — to join protests against Trump's executive order. 
"We have all heard about this order that President Trump has given, it is illegal, it is unconstitutional and it will be overturned," Warren told protesters, who projected her words in unison in what activists call "the people's mic."
Warren has been a vocal critic of Trump. She spoke out against him during the presidential campaign, and has continued to speak out against him since his inauguration. She spoke at an offshoot of the Women's March in Boston, as well as at Logan airport on Saturday.
Sen. Cory Booker (D-N.J.)
Booker joined protesters in Dulles International Airport in northern Virginia to demonstrate against the detention of refugees and legal permanent residents.
Booker helped deliver a court order to CBP agents that would allow those being detained legal counsel, after lawyers were prevented from delivering the order. 
"No matter what the White House is doing, always the power of the people is greater," Booker told the crowd, according to Asawin Suebsaeng of the Daily Beast.
Reps. Don Beyer (D-Va.), Gerry Connolly (D-Va.) and Jamie Raskin (D-Md.)
Two Virginia Democrats, Beyer and Connolly, as well as Raskin, a freshman member from Maryland, all were at Dulles in order to ensure CBP were allowing detainees access to legal counsel. 
They were denied access to speak with CBP officials.
"Your job is to enforce the law," Connolly told an airport police officer who was not granting him access to CBP officials, according to the Huffington Post. "We have a federal judge who has ruled that anybody being detained is entitled to legal representation. Have they been denied that right or are they in fact getting legal representation?" 
Reps. Jerry Nadler (D-N.Y.) and Nydia Velazquez (D-N.Y.)
Nadler and Velazquez, whose districts includes portions of Manhattan and Brooklyn, were some of the first members of Congress at John F. Kennedy International Airport in Queens, New York, to meet with CBP officials to fight for the release of Iraqi refugees who had assisted the U.S. during the Iraq War. 
"These are people who are no threat to the United States and who have worked with the armed forces for years and who were given visas on those basis," Nadler said, according to WNBC. "It is shameful not to mention that and probably implies religious discrimination."
"It is a sad day for the American people," Velazquez said, according to WNBC. "This is not who we are, this is an affront to our American values. This is a matter of life and death. These types of actions undermine our national security, and our president, Donald Trump, doesn't get it."
Rep. Bobby Scott (D-Va.)
Scott, whose district includes Richmond, the capital of Virginia, also headed to Dulles airport, where he was denied access to speak with CBP, as were his other Virginia delegation colleagues. 
Reps. Adriano Espaillat (D-N.Y.), Gregory Meeks (D-N.Y.), Yvette Clarke (D-N.Y.) and Hakeem Jeffries (D-N.Y.)
Four Democratic lawmakers who represent different boroughs of New York were at JFK on Saturday and Sunday to try and bring family members of those who were detained into the detention area to greet loved ones.
The family members were not allowed back, but the members of Congress were. 
Clark praised the protesters who showed up to demonstrate against the policy that led to the detention of refugees and legal permanent residents.
"We're going to make sure that the world knows that we're not complicit with what Donald Trump and his administration are all about," Clark said. "We are about moving this nation forward, we welcome all people of good will to help build this great democracy and that's what those protesters represent this evening."
After Jeffries went to JFK on Sunday, some detainees were released. 
Sens. Kamala Harris (D-Calif.) and Catherine Cortez-Masto (D-Nev.)
Harris and Cortez-Masto, two Senate freshmen from California and Nevada, respectively, joined protests in Washington, D.C., in front of Trump's hotel on Pennsylvania Avenue, to protest the executive order.
Both spoke to the crowd.
"Our diversity is our strength, and that's what's worth fighting for," Cortez-Masto said. "It is time to bring people together not to build walls or ban our neighbors."
"They may have taken the White House, but they have not taken our power," Harris said. "We've got the power."
Sens. Chuck Schumer (D-N.Y.) and Kirsten Gillibrand (D-N.Y.)
Schumer and Gillibrand, colleagues from New York, both attended a protest march Sunday in Battery Park in Manhattan.
Gillibrand said she attended to "stand with thousands of concerned New Yorkers to protest Trump's shameful executive order."
Schumer told the crowd he was there to "deliver a vociferous no to both the president and those horrible executive orders."
"They're bad for America, they're bad for humanity, they're bad for our national security and they are against everything that is American," Schumer, the Senate minority leader, said to the crowd.
Did you see other members of Congress at rallies against Trump's Muslim ban over the weekend? Email esinger@mic.com.
Jack Smith IV contributed reporting