When will 'Better Call Saul' Season 3 premiere? 4 things to know about new season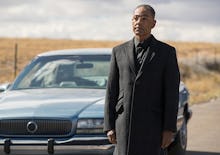 Film and television may be oversaturated with reboots, remakes and spinoffs, but if they were all even remotely near the quality of Better Call Saul, it'd be tolerable. The Breaking Bad spinoff has two seasons in the books — both great, and both with no shortage of awards, much like the flagship series. 
The second season left viewers with a bit of a cliffhanger: Saul's (or Jimmy, as the show is still calling him) brother Chuck, having made it out of the hospital, has recorded Jimmy confessing to a felony. It sets up Chuck as a clear-cut antagonist for season three, while Jimmy is thrust into the trickiest situation of his life pre-Breaking Bad. Plus, Mike had a conspicuous note left on his car after trying to exact his revenge on the Salamanca family. Suffice it to say, we're anxiously awaiting for season three. 
For Better Call Saul fans, here's what you need to know ahead of season three, including when AMC will be premiering the new season. 
The Better Call Saul season three premiere date is set:
While it's a bit later than some fans might've expected, Better Call Saul does have a premiere date set. Season three comes to AMC April 10 at 10 p.m. Eastern and will consist of 10 episodes. 
We have our first look at season three, and an official plot synopsis:
The third season has eschewed a traditional trailer so far, but a clip was released — presumably, from the premiere — of Jimmy and Kim talking in their shared offices. It appears to take place shortly after Jimmy spoke with Chuck, since he notes it's the first time in a while that Chuck didn't hate him (probably because he was recording a confession!). 
Also, Kim gets a quick shoulder massage from Jimmy, who could probably use one himself.  
AMC has also provided a detailed synopsis for season three. The big takeaway is that season three is planning some callbacks to the shared Breaking Bad universe. In other words, we may have some notable cameos — some of which have already been confirmed. 
The full synopsis reads: 
The new season follows the twists and turns of Jimmy McGill's (Bob Odenkirk) devolution toward 'Breaking Bad's' Saul Goodman — Albuquerque's most notorious criminal lawyer. Six years before he meets Walter White, Jimmy is a more or less law-abiding, small-time attorney hustling to champion his underdog clients, build his practice and somehow make a name for himself.  The acclaimed second season ended with a pair of cliffhangers. Determined to prevent his brother from practicing law, Chuck (Michael McKean) staged an elaborate con, secretly recording Jimmy's confession to a felony. When Mike (Jonathan Banks) set his sights on sociopathic cartel boss Hector Salamanca (Mark Margolis), an ominous intervention stopped him from pulling the trigger, raising questions as to what other dangerous players may be in the game.  As the new season begins, the repercussions of Chuck's scheme test Jimmy and Kim's (Rhea Seehorn) fledgling law practices — and their romance — as never before. This imminent existential threat presses Jimmy's faltering moral compass to the limit. Meanwhile, Mike searches for a mysterious adversary who seems to know almost everything about his business. As the season progresses, new characters are introduced and backstories are further illuminated with meaningful nods to the 'Breaking Bad' universe.
Gus Fring is going to appear:  
It wouldn't just be fan service if drug kingpin Gus Fring showed up on Better Call Saul. Since the prequel revolves around Jimmy and Mike, it makes sense for viewers to learn about how Mike came into the service of Fring ahead of Breaking Bad. Though yes, it certainly doesn't hurt that Fring is one of the best villains in modern TV history. 
And what's the best way to confirm that your big bad is coming back? With a fried chicken commercial, of course. 
Fring saying "Come and try our new curly fries, we are so sure you'll like them, and if you don't, they're on me" is definitely on-brand for his front as a friendly fast food chain owner. Though if you upset him, it'll probably go something like this:    
"Come and try our new curly fries, we are so sure you'll like them, and if you don't, I will kill your infant daughter!" 
Jesse Pinkman might have a cameo, too: 
Would Jesse Pinkman still be a high schooler during the events of Better Call Saul, since it's a prequel? That's just one question AMC would have to answer if the character made a cameo on the show, which could be in the cards after a promising tease from actor Aaron Paul during an appearance on Ellen last week. 
"God, I hope so," Paul said, when host Ellen DeGeneres asked if Pinkman would ever appear on the spinoff. "Maybe I already shot it. We just — or they just — wrapped the last season ... I would love to be on."  
We'd love to see it, though it presents Paul a challenge to Benjamin Button himself for a younger role. Still: Yeah, bitch!