Migos' 'Culture' release show and NYU class helped confirm the group as rap's reigning innovators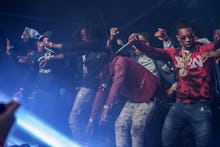 NEW YORK — When Donald Glover thanked Migos for making the "best song ever" during his acceptance speech for Atlanta at the Golden Globes, it was a clear sign Migos had arrived. The next day the group found themselves with a no. 1 single and a flood of performance requests from all of the big late night shows. The bump was merely the rest of the world catching up to what fans have known for years — that Migos, a trio made up of rappers Quavo, Takeoff and Offset, have long been one of hip-hop's most valuable trend setters. They've just been waiting for culture to catch up. 
Their Friday-released Culture (styled C U L T U R E) was their moment. Featuring their 2016 smash single "Bad and Boujee," their arguably stronger "T-Shirt" and guitar solo-filled "What the Price," the album is, start to finish, a revelation. They're one of the highest realizations of so many of trap's well-worth tropes — the hashtag flow, the trippy, hollowed-out beat, the addictive bite-sized hook. The album dominated the conversation on Twitter, despite competing for listener attention with a Kehlani album and new Taylor Swift and Missy Elliott music videos.
It's clear Migos is aiming to really capitalize on this moment. The group hosted a pair of events to celebrate the occasion in New York, performing a sold out show at the Highline Ballroom Friday, followed by a "Culture Class" at New York University's Clive Davis Institute of Recorded Music Saturday. The two-day spread showcased two sides of Migos' talent — their ability to whip a club into an absolute frenzy, and a look at their shrewd understanding of how to work the strange, new frontier of the internet to create culture.
The group's recent spike in stardom is a testament to their brilliant self-promoter savvy. They've had moments of brilliance before: with their 2013 breakout hit "Versace," a street anthem showcasing a resurrected triplet flow that crossed over with the help of an opportune Drake remix. They helped popularize the dab, though Panthers quarterback Cam Newton ended up taking much of the credit for making it a ubiquitous cultural touch stone. Fame hasn't caught up with their efforts until now. 
Fans have responded to Migos' willingness to have fun with their brand. The group has spun joke freestyles into actually amazing corporate snack jingles. They've used their signature three-way ad-libbing to rap out children's book Llama Llama Red Pajama. Their music that invites fans to join in the games and help give the group's memorable lines and meme-worthy styles even more reach. 
A vision of a Migos release show
Their release show Friday had a similarly intimate feel, a juxtaposition with their utter domination of Twitter's trending hashtags throughout the day.
Migos set the show price at $15 and kept the venue small. Moving through the bouncing crowd was a Herculean task, but everything changed as the thunderous horns of "Deadz" rolled in. While the beat swelled to its climactic drop, Quavo and Offset took a page out of the annals of hardcore and signaled for a mosh pit. The college-aged concertgoers happily obliged, opening the pit and leaping into another once the song's death march of a hook finally rang out: "Fresh out the bed! Count up the deads!"
The energy never wavered, even during the set's quieter moments, such as when Quavo introduced Atlanta super-producer Zaytoven to perform the guitar solo for "What the Price" on his keytar, or when they brought out gigantic plaques certifying the platinum sales achievement of "Bad and Boujee." 
Without the fans, this wouldn't have been possible, they intoned. The crowd responded with an approving roar.
Migos university
"I don't like to let a beat beat me up," Quavo said the next morning, discussing his songwriting and how he responds to writer's block in a talk at NYU's Cantor Film Center and hosted by The FADER editor-in-chief Naomi Zeichner. 
Saturday's "Culture Class" event was billed as an academic conversation to explore Migos' impact across the broader spectrum of pop culture. It gave Quavo and Takeoff opening up about their process, Obama's rap skills, style choices and favorite pro wrestlers with playful charm, routinely tossing out their popular ad libs and summoning the crowd to recite lyrics on a whim.
The group stayed charming, detailing the important, overlooked keys to bold styles. When Julie Ann Quay, founder and CEO of VFILES, an influential streetwear brand, broached the topic of money as a fashion accessory, both members said it was absolutely necessary and pulled $100,000 bands of cash from the pockets of their jeans. 
But they also looked back to their roots, breaking down the symbols in the Culture artwork that nod to portions of their past. The cover's white doves and roses are a nod to Quavo's deceased grandmother, and the I-85 interstate sign serves as an homage to the Northside, the lesser known region of the greater metro Atlanta area the rappers call home.
On the reception to his first mixtape, Quavo recounted how everyone at school laughed at his music, except for Offset, who immediately wanted to join him. Quavo also stressed the importance of paying your dues when starting out as an artist.
"You got to humble yourself and be a good person, to build a network in the streets," he said. On the lukewarm reception to their debut album Yung Rich Nation, Quavo said the group "took their L and went back to the drawing board," while Takeoff feels they "growed up, and graduated" with their latest project.
The conversation, one far more informal than it's setting might suggest, gave the group an opportunity to reflect on their accomplishments. It allowed the group to break down their work for fans with the detail it's long deserved. Considering the group's current momentum, it probably won't be the last time Migos will find their art critiqued in an academic environment. Culture is just another beginning, a new chapter for rap's reigning triumvirate, and further confirmation they're here for the long haul.