Muslims who voted for Trump differ on his ban, but agree on one thing: They still support him.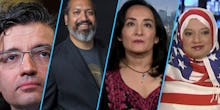 There has been widespread outrage over President Donald Trump's executive order banning refugees for at least 120 days and immigrants from seven Muslim-majority countries for at least 90 days.
But several Muslims who voted for Trump during the 2016 election nonetheless told Mic that they will continue to support the administration in its efforts to combat terrorism, despite its discriminatory actions.
Asra Nomani, co-founder of the Muslim Reformer movement, a controversial organization claiming to reject "violent jihad," appeared on Fox & Friends on Monday to defend the Muslim ban.
"We know very clearly there is an extremism problem that has been exported to the world that reaches all the far corners of our societies," Nomani said.
Zuhdi Jasser, another Muslim reformist, also defended the ban on Fox News' America's Newsroom, where he is a frequent commentator. Jasser said Trump's executive order should go beyond vetting for terrorism and start asking immigrants to explain their Islamic beliefs.
"I hope he begins to convene that and we begin to vet ideology just like in the Cold War," Jasser said. "We vetted against communist war theory and communist ideology et cetera and that was part of the immigration process."
Jasser said the administration should mimic similar tactics used against people who were accused of being communist spies during the Red Scare. In the late 1950s, Sen. Joe McCarthy (R-WI) interrogated individuals he suspected were communists in front of a congressional panel, asking them for their ideology. As a result, many lost their jobs or were imprisoned. 
Nomani and Jasser have been accused of perpetuating Islamophobia by media organizations and civil rights organizations like the Council of American Islamic Relations. Both Nomani and Jasser have also advocated for increased police surveillance and monitoring of Muslim communities. 
Oz Sultan, a big data and counterterrorism analyst who attended a roundtable meeting with Trump in August, is a Republican and voted for Donald Trump in the 2016 general election. Sultan said he disagrees with the likes of Nomani and Jasser's call for a crackdown on Islamic ideology. 
Sultan said he initially had some concerns with the fact that visa holders were implicated under the Muslim ban since they've already been vetted. But overall, he is pleased with the order..
"It's a start. It's something in place by which we can start giving some confidence to the American people and Muslims," Sultan said. "It's something we can put back against terrorism. We're doing something."
Sultan also said the real problem is that former President Barack Obama provided the framework for the ban. (This is partially true, Trump's order is based off a list of countries Obama approved a restricted waiver program for in 2015.) 
"Look, Obama banned Iraqi refugees for six months in 2011," Sultan added. "Are we only going to upset when it's not done by a Democrat?"
Trump made the same claim on Sunday morning, but as Mic previously reported, Obama increased the rigor of background checks for Iraqis applying for Special Immigrant Visas. He did not ban Iraqi refugees.
Saba Ahmed, who voted for Obama in 2012 but has since become a Republican, started the Muslim American Republican Coalition after she realized she didn't align with liberal policies of Democrats.
Ahmed said that she agrees with the Trump administration on the need to secure borders and fight terrorism. 
"I want to see a strong face in America," Ahmed said. "We need secure borders. I was concerned with the way the ban was implemented. There are serious issues of people being detained at airports with valid visas or green cards. But this is about national security and these countries are coming from certain threatening places."
It should be noted that, since the Refugee Act of 1980, no fatal attacks on U.S. soil have been carried out by any refugees accepted to the United States, CNN reported.
Ahmed also believes the ban is in the direct result of Muslims not working with the White House and Republicans.
"I place the blame on ourselves," Ahmed said. "We can't just be reactionary. All I'm seeing is Muslims protesting and complaining. We have to look beyond that and in the lobbying business."
Yet members of Trump's administration who have expressed anti-Muslim views have made "a seat at the table" look pretty uncomfortable for many Muslims. Frank Gaffney, a noted Islamophobe, is one of Trump's cybersecurity advisers and once made baseless accusations of the Muslim Brotherhood infiltrating the federal government. Gen. Michael Flynn, Trump's national security adviser, has made a series of unfounded claims about Muslims and called Islam "a cancer." Rudy Giuliani, another one of Trump's cybersecurity advisers, confirmed that Trump called him for advice on how to legally implement a "Muslim ban" and proposed using electronic tagging devices on Muslims living in the United States.
From broken families to mosques set ablaze, the first week of Trump's presidency has proved to be just the beginning of a new era for Muslims in the United States and abroad. While these Muslim Trump supporters are aware that Trump's presidential win has resulted in violence within their communities, they still express no remorse for their votes.  
Sultan, when asked what he would say to his fellow Muslims facing the brunt of Trump's anti-Muslim policies, had just one piece of advice.
"Don't travel for six months."