Hundreds of people are volunteering to translate for lawyers fighting Trump's Muslim ban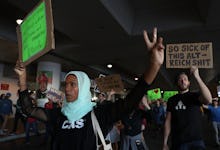 When President Donald Trump signed an executive order Friday barring travelers from seven Muslim-majority countries from entering the United States, lawyers from across the U.S. converged on their local airports to fight back.
But in the process of rushing to get detainees released and offering pro-bono legal services to those affected by the ban, another challenge emerged: the language barrier.
"We needed people who spoke Arabic, Farsi and Somali," Francey Youngberg, a former tax attorney who volunteered at Dulles International Airport in Washington, D.C., said in an interview. "So we started recruiting attorneys and non-attorneys who speak those languages. We're creating a national database of translators."
The rapid mobilization of lawyers has been one of the more remarkable aspects of the backlash to the ban. But equally notable are the everyday citizens who have offered their services. Youngberg — herself an immigrant from the Philippines — said she's received an overwhelming response to the call-outs she's made through her personal networks and on social media since Sunday.
"Close to 300 translators signed up from across the country," she said. After combining her list with two others that were circulating, the estimated number of people in Youngberg's database clocked in at more than 500, she said.
This ad hoc coalition of volunteers hail from diverse backgrounds. Many, like Youngberg, came to the United States as immigrants themselves. Ghazal Sharif was one of them. The former prosecutor came to the U.S. from Afghanistan with her family when she was three, and now lives in San Francisco where she has offered her translation services at the airport.
"It's my duty to help," she said. "I speak Farsi and Dari. I'm also a Muslim. [The call-out] was going around on Facebook, so I just showed up at SFO to help."
Other volunteers have immigrants and refugees in their families. Azza Altiraifi, a Sudanese-American Muslim, works at the Center for Contemporary Arab Studies at Georgetown University. She is the daughter of Sudanese immigrants, and her husband is the son of refugees from Palestine. She volunteered her Arabic translation services at Dulles Airport over the weekend.
"We were limited in our access to people being detained," she said. "So I mostly translated for family members of these individuals, questioning people coming out of flights to see if they'd witnessed anything out of the ordinary."
Like almost every aspect of the volunteer response to Trump's order, this gathering of translators has been highly improvisational. Different legal organizations even have different lists. Francey Youngberg, who is coordinating one of the Dulles lists, is a member of Lawyers for Good Government, a collection of lawyers from different backgrounds who are passionate about civil rights. Sara Dill, a former immigration and criminal defense attorney who was in private practice for years, has a separate list going around at the same airport.
But the endgame is the same. These lawyers all recognize that the fight doesn't end with the massive protests that engulfed America's airports over the weekend. Nor did it end with U.S. District Court Judge Ann Donnelly's stay on Trump's order, which was won by the American Civil Liberties Union on Saturday. Whatever groundwork the lawyers lay now has to support whatever comes next. 
"We've recognized we're putting these lists together to address anything that comes out from this administration," Sara Dill, the former criminal defense attorney said in an interview. "The more names we get, the more we have if something dramatic happens a week from now in order to mobilize."
In the meantime, more and more translators are making themselves available. Many of them don't know when or where their services will be needed. They may be summoned to an airport today in person, or via telephone or FaceTime tomorrow to help lawyers in Minneapolis. Some will be asked to translate legal documents. Others will help write informational brochures explaining potential migrants their rights. All are driven by a desire to give back wherever they can.
"So many other people helped my family along the way," said Ghazal Sharif, the Afghani immigrant and former prosecutor who volunteered at SFO. "I just feel like what's happening right now is so un-American. We're a country built on immigrants."