Reza Aslan reminds Paul Ryan of his immigrant roots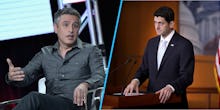 Reza Aslan remembers the past, both recent and far. 
In a Mic exclusive, the Iranian-American religious scholar pointedly asks House Speaker Paul Ryan to reflect on his support for President Donald Trump's executive order on immigration, which forbids immigrants and refugees from seven Muslim-majority nations from entering the United States for varying lengths of time. Ryan wholly rejected the notion of a ban in 2016 but now supports the president's executive order. 
Aslan appeals directly to Ryan's personal immigration history. 
"You forgot your own identity," Aslan says. "You forgot where you came from."
Watch Aslan's full remarks below: