Where is the groundhog for Groundhog Day 2017? What to know about famed Punxsutawney Phil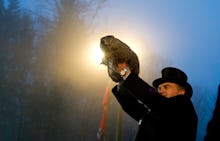 The tradition of Groundhog Day stretches back over a century. But it's the famed Punxsutawney Phil that takes the spotlight every Feb. 2 at Gobbler's Knob in Punxsutawney, Pennsylvania, poking his head out from his burrow to search for his shadow and determine whether there will be six more weeks of winter or an early spring. 
According to Groundhog, the celebration of Groundhog Day began with the Germans, Pennsylvania's earliest settlers, and stems from the legend of Candlemas Day, which states, "For as the sun shines on Candlemas Day, so far will the snow swirl in May." The settlers then adopted the groundhog to carry on the tradition and on Feb. 2, 1887, Punxsutawney Phil made his first appearance on Gobbler's Knob. 
Punxsutawney Phil, groundhog extraordinaire 
Punxsutawney Phil was allegedly named after King Philip, and according to Groundhog, has survived since that first winter way back in 1887. The rodent meteorologist's extraordinary longevity is thanks to a special "groundhog punch" he drinks every summer, giving him an extra seven years of life. Of course this is all part of the lore, as groundhogs generally only live for around six years.
Punxsutawney Phil is a groundhog among groundhogs, but the little animal would be nothing without the Inner Circle, his team of top hat-wearing caretakers. The Inner Circle are a group of dignitaries who not only tend to Punxsutawney Phil's every need, but also plan the annual Groundhog Day events like the Groundhog Ball, Groundhog Banquet, Hogtoberfest Craft Beer Festival, Groundhog Picnic and more. 
Punxsutawney Phil and his wife Phyllis live at Phil's Burrow, a climate-controlled environment at 301 E. Mahoning St. The groundhogs' habitat also has viewing windows so passersby can check in on the little meteorologist and his wife. 
The big day
On Thursday, between 3 a.m. and 8 a.m., Punxsutawney Phil will give his 131st prognostication at Gobbler's Knob, where he'll whisper his weather forecast in Groundhogese to the Groundhog Club President, who will then translate his proclamation for the world to hear.