Donald Trump may sign an executive order targeting the civil rights of LGBTQ citizens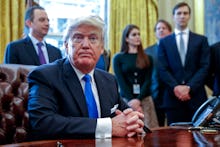 White House Press Secretary Sean Spicer did not deny rumors his boss, Republican President Donald Trump, may sign an executive order targeting the civil rights of LGBTQ citizens on Monday.
Asked about rumors of the impending order, which LGBTQ civil rights group the Human Rights Campaign issued a call to arms against on Monday, Spicer told the Washington Blade he is "not getting ahead of the executive orders that we may or may not issue."
"There's a lot of executive orders, a lot of things the president has talked about and will continue to fulfill, but we have nothing on that front now," Spicer added.
The Human Rights Campaign cited a Bloomberg Government story (available only to subscribers) saying the administration is weighing several options in the order, including "allowing contractors to discriminate in hiring, allowing taxpayer-funded workers to refuse to serve LGBTQ people, or allowing Indiana-style discrimination where contractors could refuse service to LGBTQ people."
According to the Washington Post's Josh Rogin, administration sources also say the executive order "could affect federal employee benefits & protections" and even "adoption agencies that receive federal funding."
As CNN reported, one of Trump's prior executive orders, his entry bans on all refugees as well as citizens of seven Muslim-majority nations, was hastily written by people close to Trump's inner circle including his chief strategist Steve Bannon, and was not prepared in coordination with relevant federal agencies or the Department of Justice's Office of Legal Counsel. Per the CNN report, key aspects of the order were vague and only determined at the last moment, resulting in considerable confusion when it was issued.
So if there is an executive order on LGBTQ rights coming, the specifics may not be known until Trump's signature is already on it. Spicer has attempted to use the confusion to the administration's advantage, repeatedly attacking the media for allegedly inaccurate reporting on Trump's executive orders and policies.
Trump has not treated LGBTQ people with the same open hostility he offered Muslims, women, minorities and others on the campaign trail. But candidate Trump did say he "could strongly consider" appointing a Supreme Court justice committed to overturning same-sex marriage nationwide, supported North Carolina's anti-trans HB 2 law and picked then-Indiana Gov. Mike Pence, a staunch social conservative, as his running mate and now vice president.