'The Bachelor' 2017: Who did Nick Viall send home in week 5?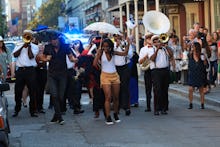 "Be focused on the person that you're here for," Rachel says at the beginning of Monday night's episode of The Bachelor. It's a fitting moral for a reality show about dating a single man at the same time as dozens of other women. Unfortunately, it's a lesson two women lose sight of in the episode.
Fresh off their fight in episode four, Taylor and Corinne spend most of Monday's episode sparring not over Nick Viall, but over their disagreements over "emotional intelligence" and who has it. As Corinne swills champagne in a confessional and calls Taylor a bully, it's clear that both of them have embraced the "drama" that Corinne accuses Taylor of seeking.
"It is unproductive!" Taylor screams about her fight with Corinne. "It is so unproductive!" If you thought the same of the fifth episode of The Bachelor's 21st season, you might be a human — but you might not be the right audience for ABC's hit dating reality series.
Much time was wasted on Monday's The Bachelor, what with about 45 minutes of the episode spent on a haunted house group date that went nowhere and eliminations (bye Sarah, bye Astrid) that no one likely cared about. During said rose ceremony, we saw Rachel panic about potentially not getting to stay. From our seats at home, it's obvious Rachel will survive, but her insecurities come back into play on her one-on-one date with Nick.
Yes, of course, Rachel makes it to New Orleans, and she gets the chance to charm Nick in person. She succeeds, in spite of any doubts she had that her first impression rose would be her last. It's an interesting concern: Olivia didn't get a one-on-one date after her first impression rose, so Rachel could get left out on the cold.
But Rachel stands out among a crowd of still-too-many girls that has left us with some really underwhelming choices. (How is Whitney still here? Who is Whitney?) Her date in New Orleans, complete with trip to Cafe Du Monde and dancing in a too-tiny parade, charms. She and Nick connect over his own insecurities — over having asked for two women's hands previously. It's a surprisingly deep idea that the show hasn't yet explored: Nick got rejected twice, in public fashion. Of course he would have some scars.
Rachel getting the rose is basically obligatory; unless someone really screws up a one-on-one date, they're almost certainly staying. But Monday night was Rachel's first time to shine since the premiere, and it's worth the wait.
But let's be honest: Corinne versus Taylor is the show. Hearing Corinne fire off bitchy bon mots like, "What does that say about your emotional intelligence, bitch?" and "Bye Taylor, see you never," all while brandishing champagne glasses and taking baths — she's the better TV. But two-on-one dates, which she gets stuck on with Taylor in a bayou, are where villains are vanquished. Olivia went home on a two-on-one, as did Chad in Jojo's Bachelorette season.
So watching Corinne cartoonishly call Taylor a "big mean swamp monster" and get edited in the most absurdly villainous fashion — even the flies in the bayou hate her! — she seems destined to go home. Even the tarot card reader seems on Taylor's side, giving her hints about ejecting negative energy, while Corinne can only ask, "How do you make a voodoo doll specific to a person?"
Unfortunately for Taylor, Corinne gets the rose. It's a decision that is damning of Nick as a person, but an endorsement of him as a reality star. He sees the potential in Corinne, and keeps her around. Taylor, on the other hand, hit her peak this episode.
That's what we would say, at least, if Taylor didn't suddenly appear to confront Corinne at the end of the episode. That's enough of a hook for us to tune in next Monday — to see what Taylor, already eliminated, does to sabotage Corinne's chances.