Can't delete Uber? Here are 4 ways to protect your privacy if you use the car-service app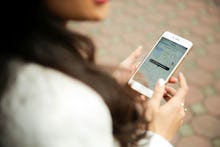 The "Delete Uber" movement — a reaction to the company's bungled announcements during the protests at New York's John F. Kennedy International Airport this weekend — is still going strong. The campaign to ditch the popular car-service app has brought several issues into the spotlight: Is it hypocritical for a tech giant to support a Donald Trump protest while its CEO is on a presidential advisory board? Is Lyft any better? And wait, hang on — what do these companies know about us, anyway?
Turns out, they know a lot. Penetration tester Vitor Oliveira, who's examined Uber's code, said the tech giant — which is valued at $66 billion — gets "a lot of information about the user: location, contact list, credit card, even [remaining] battery percentage" (a spokesperson for Uber said over email that battery data "is used for fraud detection and to measure the energy performance of the app."). There are real safety and security concerns when using the app: If Uber suffers another massive data breach, it won't just be Silicon Valley that's tracking your movements.
Can you get around while also keeping your information secure? Regardless of where you land on #DeleteUber, if you want to use ride-sharing apps without giving up your personal information, we compiled a handy guide. Here's what you can do to ensure the company has as little data on you as possible. 
Use Uber without it always tracking your location.
In the latest update on iOS and Android, Uber offers only two options for using your phone's GPS chip: "Always" or "Never." Meaning: If you want Uber to automatically know your location when you open the app, you're also allowing Uber to keep track of your location even when the app isn't running. Uber is known for such shady privacy options. It once let employees — both corporate and drivers — use a setting called God Mode to track customers' whereabouts.
According to Uber, the company requires your location data not only while the app is open but also "up to five minutes after the driver ends a trip, even if the Uber app is in the background." The setting is present both on iPhone and Android. 
You can use Uber without giving the app constant access to your location. If you're on iPhone, go to Settings, then scroll down and find Privacy. Tap Location Services and then scroll down to Uber. Here's where you can switch "Allow Location Access" from Always to Never.
To turn off location sharing on Android, head to the Settings app and select Apps. Find Uber and scroll down to Permission. From here you can toggle the Location setting. Android devices on Lollipop (5.1) and earlier can simply go to Settings, then Location and switch to Off. 
Use Uber without drivers always learning where you live.
Many rides occur late at night, and sexual assault is a very real possibility. 
To Uber's credit, the company does a good job of anonymizing user phone numbers to prevent personal information from being given to drivers. However, using Uber tends to reveal a much more personal piece of information: a user's home address. But it doesn't have to be this way.
If you're worried about Uber drivers knowing where you live, you can set a fake address as your home instead of your actual address. In the Uber app, head to Settings and under Favorites type in an address that's nearby your house, then save it as "Home." Having Ubers pick you up and drop you off at a nearby corner is a little safer than telling strangers where you live. 
Use Uber without giving it your phone number.
When signing up for Uber, the service requires you use a verifiable phone number and email address. Making a separate email address for Uber is relatively easy, but obtaining a new phone number is much harder. 
That's where apps like Burner and Google Voice come in. Both services allow you to use a separate phone number but still receive calls to that number using your own phone. When a driver rings your Burner number, a push notification is sent to your phone, allowing you to pick up the call within the app. Using Burner will cost you money and can be used to call and text from within the app. Google's Voice service is free and can be used on the new phone app or on your traditional PC (the catch being Google now has more of your data). In Google Voice's settings, users can have callers attempting to reach the Google Voice forwarded to your personal line. 
Use Uber without providing personal credit card/debit card info.
In October 2014, Uber worked with Apple to allow users to hail a cab without needing an account. Your credit card data is not stored on their servers, Uber said in an email. Though if you're an iPhone user and you've added your credit or debit card to Apple Pay, you can use Uber without entering your credit or debit card credentials into the app at all.
As Apple explains, "Apple sends your Device Account Number to the app or website along with the dynamic security code. So neither Apple nor your device sends your actual credit or debit card numbers to the app." Uber knows which iPhone is paying for the ride, but no details about the card used to make the purchase. This does mean, however, that Apple will keep your credit card info in its cloud instead. Pick your poison.
Don't use Uber.
If you're ready to #DeleteUber and just want to know what the other options are, there are plenty here. Go with a local option that supports taxi-driver unions. Or try ride-sharing services like Arro, Moovn or even the safety-focused service Safr.
Feb. 1, 2017, 3:30 p.m.: This story has been updated.