DHS and State Department to admit 872 refugees despite President Trump's Muslim ban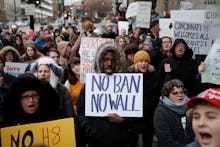 The Department of Homeland Security and State Department have cleared 872 refugees to enter the United States despite President Donald Trump's executive order denying all refugees entry to the country for 120 days, Reuters reported Monday evening.
According to Reuters, an anonymous homeland security official confirmed a document showing DHS and State Department officials granted waivers to the 872 refugees because they were "in transit" when the order was issued, and had already been cleared by officials responsible for screening refugees for potential safety threats. Reuters reported that the refugees were cleared using procedures in place during former President Barack Obama's administration, "which typically take two years and include several interviews and a background check."
The agencies' decision to admit the refugees was not the only setback to Trump's order, which also banned citizens of seven Muslim-majority countries from entering the U.S. for 90 days. CNN reported the order was hastily drafted by core Trump advisers including former Breitbart executive Stephen Bannon without proper vetting from the Office of Legal Counsel, leaving several issues like whether green card holders (permanent residents) could enter the country unaddressed for days.
The orders triggered nationwide protests in support of the hundreds of travelers detained at airports across the country. Federal judges ordered stays on deportations and that detainees held at airports be given access to lawyers, though U.S. Customs and Border Protection officials ignored the courts regardless.
Acting Attorney General Sally Yates, an Obama appointee heading the Department of Justice until Trump's replacement clears a Senate approval vote, ordered the agency's lawyers to not defend the executive order on Monday evening.